Picking second in Draft nothing for Cubs to mock at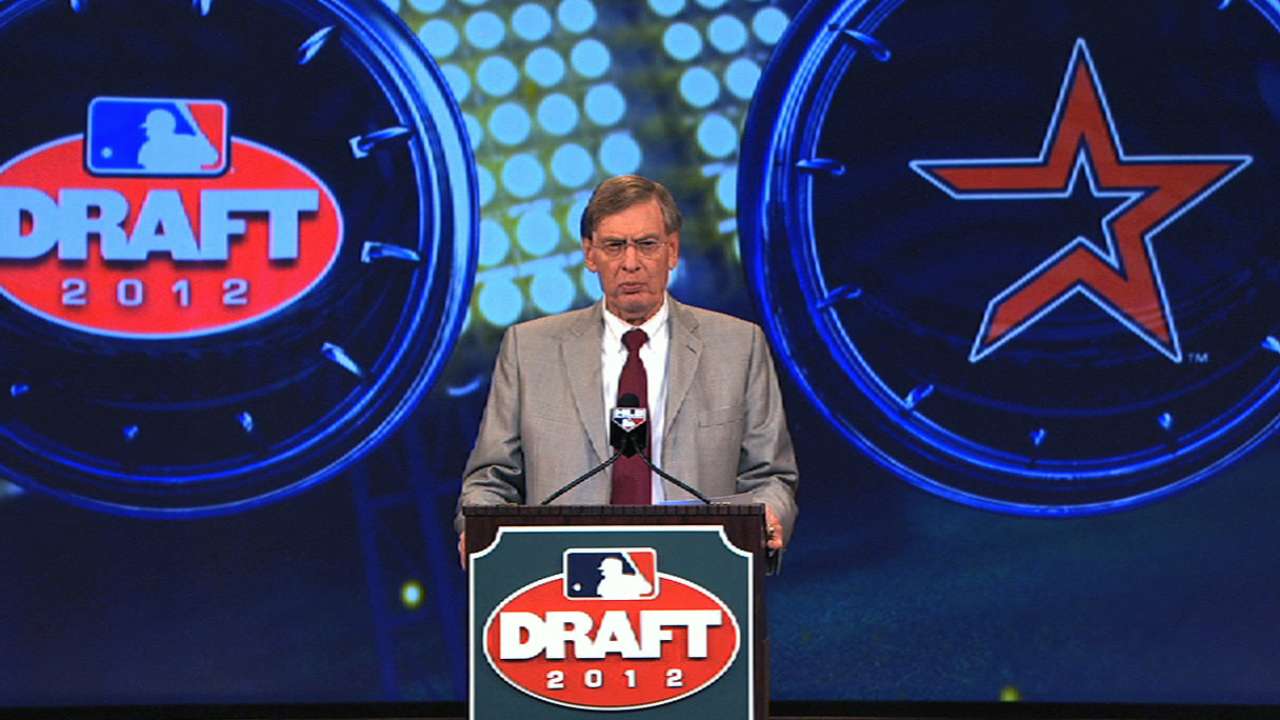 CHICAGO -- The Cubs haven't done any mock drafts yet, heading into Thursday's First-Year Player Draft. Jason McLeod, head of scouting and player development for the Cubs, said it's a little different when you have the second overall pick.
"When you're picking [No. 2], it takes a lot of the 'mocking' out of it," McLeod said Sunday. "If you have the group of five players or so, it's like, 'OK, in our mock draft, Houston takes player X. OK, we're on the clock.' You can do a lot of strategy when you're picking deeper in the Draft."
McLeod said the Cubs' front office has actually spent more time discussing its second- and third-round picks, Nos. 41 and 75 overall, more in recent days.
"We've probably discussed No. 2 for about two hours of the four days we've been here," McLeod said. "We'll get into those guys more this week."
The 2013 First-Year Player Draft will take place Thursday through Saturday, beginning with the Draft preview show on MLB.com and MLB Network on Thursday at 6 p.m. ET. Live Draft coverage from MLB Network's Studio 42 begins at 7 p.m., with the top 73 picks being streamed on MLB.com and broadcast on MLB Network. Rounds 3-10 will be streamed live on MLB.com on Friday, beginning with a preview show at 12:30 p.m., and Rounds 11-40 will be streamed live on MLB.com on Saturday, starting at 1 p.m.
Having the No. 2 overall pick has given McLeod and others the chance to see some of the best amateur players.
"For me, on a weekly basis, I've spent a lot of Friday nights seeing the top college pitching around the country and seeing the best players who we're going to consider with that pick, and with our second pick at 41," McLeod said. "When you're only seeing the best players, it's a lot of fun nights."
The Cubs have narrowed their list to four: pitchers Jonathan Gray of Oklahoma and Mark Appel of Stanford and third basemen Kris Bryant of San Diego and Colin Moran of North Carolina.
"Ultimately, it's long term, who will make the most significant impact on the organization," McLeod said. "We don't go into any Draft drafting based on need, we go in drafting on who we feel is going to provide the biggest impact for our club, hopefully for years to come. Whether you're picking sixth like last year, or two, or in Boston, late in the first round, that's always the mindset. The player pool changes a lot when you're picking at the top of the Draft."
McLeod, president of baseball operations Theo Epstein, and general manager Jed Hoyer have met with the Cubs' final four. What has benefited them the most is thorough background reports from their area scouts.
"You get a good feeling when you can sit across the table from someone and can look them in the eye and ask them some pretty candid questions and get honest answers, and we were able to do that, which makes you feel good when you make the selection," McLeod said.
Last year, the Cubs had the sixth selection overall and chose high school outfielder Albert Almora, then selected a pitcher with eight of the next nine picks. What does manager Dale Sveum prefer?
"You get the best player," Sveum said. "You pull for a lot of pitching, no matter where it is in the Draft. That's part of the Draft -- finding all those other pieces that somebody else might not have seen or you have good feelings about guys. The bottom line is getting pitching in the organization."
Carrie Muskat is a reporter for MLB.com. She writes a blog, Muskat Ramblings, and you can follow her on Twitter @CarrieMuskat. This story was not subject to the approval of Major League Baseball or its clubs.