Sveum allowing Castro to play through struggles
Sveum allowing Castro to play through struggles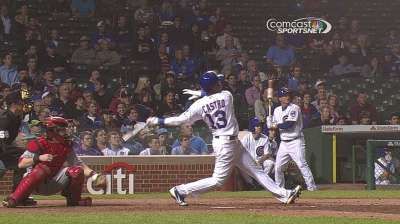 CHICAGO -- On Saturday, Dale Sveum said he was considering giving struggling shortstop Starlin Castro a day off, but the Cubs manager has yet to do so.
Why not?
"I just can't pull the trigger on it," Sveum said prior to Monday's 6-2 loss to the Reds.
Castro went 1-for-4 with an RBI double in the ninth on Monday, snapping an 0-for-15 streak and most likely keeping himself in the lineup another day.
"I get going, try to be aggressive with every pitch and let's see what happens," Castro said. "I'm trying to hit the ball hard every time."
Castro did just that in the fourth when he lined out to Reds second baseman Brandon Phillips.
"That helped me a lot, because I knew I hit the ball hard," Castro said. "I try to hit the ball hard and [have] good at-bats."
"Hopefully, that kind of day is something that turns things around," Sveum said after the game.
The decision on whether to sit Castro has nothing to do with the shortstop's consecutive games played streak of 257, which is longest in the National League.
"If I do it, somebody's not going to talk me out of it because of a streak involved," Sveum said. "I don't think we're talking a Cal Ripken streak."
Castro is batting .243 and only .203 against left-handers. He talked to Hall of Famer Billy Williams, who told him not to worry about anything, and just see the ball and hit it.
Sveum did drop Castro from second to seventh in the batting order last Tuesday, and so far the shortstop is 2-for-22 in six games there.
"I know I'm pretty close to getting out of this," Castro said. "Sometimes I think too much, but I just put in my mind to be strong to not think about that and just play baseball."
Would a day off help? "No," Castro said. Still, he's never experienced this long of a skid.
"It's never happened to me," Castro said of his struggles. "I know I'll be all right."
"He's still a fixture in our lineup," Sveum said of Castro, who began this season with a career .297 average. "It's not that other guys aren't capable of [playing shortstop], but he's still a threat in our lineup. At this point right now, I can't seem to get myself to have enough reasons to do it other than the guy is in a slump. We're still out here trying to win games."
Castro took early batting practice on Monday, working on the field with hitting coach James Rowson. Has Sveum seen progress?
"I don't see any of the things that I'd like to see changed being changed," Sveum said. "The timing and mechanics just aren't changing enough to center a baseball consistently."
Carrie Muskat is a reporter for MLB.com. She writes a blog, Muskat Ramblings, and you can follow her on Twitter @CarrieMuskat. Joey Nowak is a reporter for MLB.com. Follow him on Twitter at @joeynowak. This story was not subject to the approval of Major League Baseball or its clubs.