Garza not on the same page with Castillo
Garza not on the same page with Castillo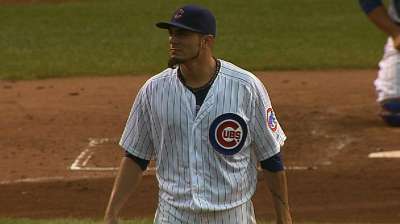 CHICAGO -- After Tuesday's game, Cubs pitcher Matt Garza said he didn't feel he'd found a good rhythm yet with catcher Welington Castillo.
"Being in this game for as many seasons as I have, I need to take control and I need to guide him through it," Garza said. "I'm not doing what I'm supposed to do. I'm going to get ready in five days and try to make it right."
Castillo has caught every one of Garza's five starts this season.
"[Garza] pitched a pretty good game with [Castillo] behind the plate a couple outings ago," manager Dale Sveum said of the right-hander's May 31 start against the D-backs, when he gave up two earned runs over seven innings. That was Garza's only win of the season.
"If you get the ball up, it doesn't matter who's catching," Sveum said.
That was the problem for Garza on Tuesday against the Reds. Sveum said he does support pitchers who feel more comfortable with one catcher.
"In this case, it was definitely not warranted," Sveum said.
This is Castillo's first season as the Cubs regular catcher, and Sveum says he's seen improvement.
"He's put himself into [position] as one of the better defensive catchers in the game," Sveum said. "Hopefully, it's one of those building blocks, like how [Yadier] Molina started his career swinging a bat. One thing Molina did early in his career, he didn't strike out. The average and production wasn't there. We've all seen Molina graduate into one of the better and tougher outs in all of baseball. Welly has the mechanics and hand speed to do that."
Carrie Muskat is a reporter for MLB.com. She writes a blog, Muskat Ramblings, and you can follow her on Twitter @CarrieMuskat. This story was not subject to the approval of Major League Baseball or its clubs.