Cubs activate Camp from 15-day disabled list
Cubs activate Camp from 15-day disabled list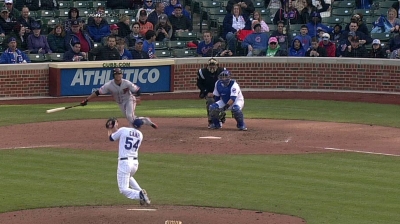 NEW YORK -- The Cubs activated relief pitcher Shawn Camp from the 15-day disabled list on Saturday.
Camp will fill the roster spot that opened up when Chicago placed center fielder David DeJesus on the 15-day DL. DeJesus sprained his right shoulder in the Cubs' 6-3 win over the Mets on Friday at Citi Field.
Camp was placed on the DL on May 22 with a right big toe sprain. While recovering from the injury, Camp made two rehab appearances for Class A Kane County.
He threw two scoreless innings on Friday night, and gave up one hit and had three strikeouts.
Cubs manager Dale Sveum said Camp is ready to pitch, though he likely won't be used on Saturday unless the team absolutely needs him because of his Friday outing.
"He's ready. Everything went good in his rehabs," Sveum said. "He threw really well yesterday and the time before -- his velocity is even up."
While they lost an outfielder with DeJesus' injury, the Cubs activated a pitcher to fill the roster spot since the bullpen has been used so much recently. Sveum said the team might call up an outfielder once the bullpen "gets back into shape."
Camp is 1-1 with a 7.56 ERA in 20 appearances for the Cubs this season. The right-hander pitched in 80 games last year, tied for the major-league lead, and went 3-6 with two saves and a 3.59 ERA.
Chris Iseman is an associate reporter for MLB.com. This story was not subject to the approval of Major League Baseball or its clubs.