Sveum unsure of how MLB can protect pitchers
Sveum unsure of how MLB can protect pitchers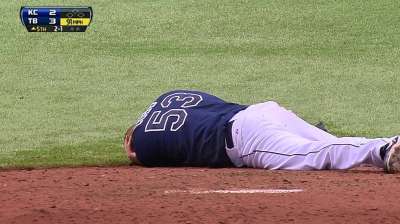 NEW YORK -- Cubs manager Dale Sveum hasn't seen the replay of Rays pitcher Alex Cobb getting hit in the head during Saturday's game against the Royals, but he heard about it, noting those types of incidents seem to have increased over the last few years.
But Sveum said he's not sure what could be done to avoid the problem in the future.
"I don't know -- a pitcher could possibly pitch with a helmet on," Sveum said. "That's what you're talking about. or some kind of hard shell underneath the hat, like the old days. You're not going to cover up faces, the guy's got to pitch."
Cobb was struck in the head on Saturday when the Royals' Eric Hosmer hit a liner back up the middle. Cobb was taken off the field on a stretcher and immediately went to the hospital. He suffered a concussion and will be placed on the 7-day concussion list.
Sveum said there doesn't seem to be much that can be done to minimize the changes of that happening.
"It's obviously a dangerous thing to be that close to a Major League hitter, hitting a line drive," Sveum said. "I'm just not sure you're going to be able to do anything about it."
Chris Iseman is an associate reporter for MLB.com. This story was not subject to the approval of Major League Baseball or its clubs.