Cubs don't expect carryover from interference call
Cubs don't expect carryover from interference call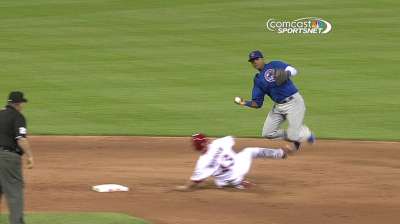 ST. LOUIS -- Shortstop Starlin Castro may have feared for his life when pinch-runner Shane Robinson came charging at him in the ninth inning Tuesday night, but the Cubs didn't expect any repercussions after the game-ending play.
The Cardinals trailed 4-2 in the ninth and had runners at first and second with one out. David Freese hit a grounder to second baseman Darwin Barney, who flipped to Castro for the force at second. Robinson, who was on first, slid hard into Castro and well off the bag, and second-base umpire Fieldin Culbreth called interference on the play. The game was over.
After the game, Castro said: "I couldn't throw the ball because he tried to kill me."
Fortunately, Castro could laugh after he said that.
"It was the right call," Cubs manager Dale Sveum said Wednesday. "He's trying not to end the game. Luckily, on our part, the umpire made the right call."
Was it a dirty play?
"I hope our players would do the same thing in the same situation," Sveum said. "You know the game's over. He just slid too far away from the bag."
Told about Castro's comments, Sveum said he didn't expect any repercussions.
"You're trying to avoid having him throw the baseball and that's all there was," Sveum said. "There used to be a time when you could do that."
Carrie Muskat is a reporter for MLB.com. She writes a blog, Muskat Ramblings, and you can follow her on Twitter @CarrieMuskat. This story was not subject to the approval of Major League Baseball or its clubs.