Rizzo reflects on anniversary of Cubs promotion
Rizzo reflects on anniversary of Cubs promotion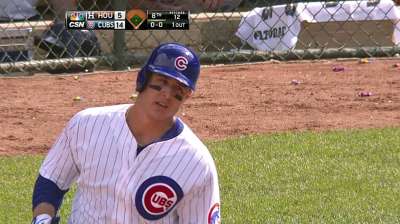 MILWAUKEE -- There was no cake or balloons in the clubhouse, but Wednesday was a milestone day, marking the one-year anniversary of when the Cubs promoted Anthony Rizzo from the Minor Leagues.
In his Cubs debut, the first baseman went 2-for-4 with a game-winning RBI double in the fourth against the Mets.
"There was a lot of uncertainty, to be honest, because of what happened to me in San Diego, and that was fresh in my mind," said Rizzo, who batted .141 in 49 games with the Padres in 2011 in his first Major League action.
"Coming up and doing well at first was the best thing to ever happen to me, to get that whole San Diego thing out of my head completely. I can finally say it's way in the past."
Since June 26, 2012, Rizzo has appeared in 161 games, hit 27 home runs, and driven in 92 runs. His 65 extra-base hits in that span are second most among National League first baseman, trailing only Arizona's Paul Goldschmidt (70).
"When he got here, he took off right away and had a great first six weeks, and then tailed off and finished up pretty well," Cubs manager Dale Sveum said of Rizzo, who batted .330 last July to be named NL Rookie of the Month.
"He's one of those guys who is all in to his defense and his work ethic and trying to make himself a better player every day," Sveum said. "The rest falls into place when you have that kind of mentality. The hands are there, the ability to hit is there. He's already produced at the big league level. The power numbers -- they only get better when you have that kind of work ethic and mindset."
Rizzo is sporting the same hair cut he did when called up last year.
"I got sick of my hair -- I had long hair last year in Triple-A," Rizzo said. "I cut it two days before I got called up. [This year], I cut it three days ago."
So, could he win NL Player of the Month honors again?
"Yeah, let's repeat that," Rizzo said, smiling.
Carrie Muskat is a reporter for MLB.com. She writes a blog, Muskat Ramblings, and you can follow her on Twitter @CarrieMuskat. This story was not subject to the approval of Major League Baseball or its clubs.