Sweeney out four to six weeks with rib fracture
Sweeney out four to six weeks with rib fracture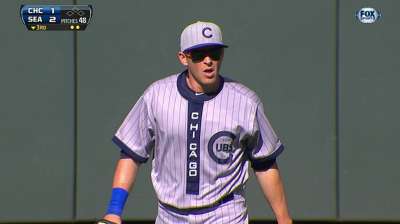 SEATTLE -- Cubs outfielder Ryan Sweeney has a fractured left rib, suffered when he crashed into the outfield wall at Safeco Field on Saturday, and he will not be able to do any baseball activities for four to six weeks.
Sweeney was injured after catching Kendrys Morales' fly ball for the second out in the third inning of the Cubs' 5-3 win.
"It's unfortunate, because we started to get things going with the offense and now we lose a big piece of that," Cubs manager Dale Sveum said Sunday. "It's unfortunate for him, too, because he's trying to get his career going and play every day. It stinks when those things happen to guys like that, who are good players and getting a chance and all of a sudden it's taken away for a couple of months."
Sweeney was batting .295, and had taken over in center field after David DeJesus sprained his right shoulder crashing into the outfield wall at Citi Field on June 14.
"The wall is harder now, because they put in a new wall," Sweeney said of Safeco Field. "It felt like a brick wall when I hit it. I grabbed my side, because I felt it jolt a little. I feel like I've hit that way before, and it wasn't that hard. It must have just hit me in the right spot. I came out of the game and was hoping I maybe bruised it and tried to swing and couldn't swing."
X-rays were negative, but a CT scan showed the fracture.
"I knew I didn't feel great, but obviously, you don't know if a bone is broken," Sweeney said.
For now, the Cubs will use Brian Bogusevic in center. Sweeney is headed to the disabled list, but the club didn't make a corresponding move Sunday. After an off-day Monday, Chicago will make a roster move prior to Tuesday's game against the Athletics. The team could add a pitcher, depending on whether the bullpen is taxed.
Sweeney was obviously disappointed.
"It's frustrating," he said. "Last year, I got a concussion when I was hitting .350. It seems like it comes at the worst time for me. I play hard, so it's not like I was out of control when I hit the wall. It was just a fluke thing."
Sveum said he'd like to have Sweeney be part of the Cubs' future.
"You hope so -- a left-handed bat, can catch the ball, a baseball player, he's done a great job," Sveum said. "You hope those kind of guys are always in your organization."
Carrie Muskat is a reporter for MLB.com. She writes a blog, Muskat Ramblings, and you can follow her on Twitter @CarrieMuskat. This story was not subject to the approval of Major League Baseball or its clubs.