Camp designated, Rusin optioned for Strop, Guerrier
Camp designated, Rusin optioned for Strop, Guerrier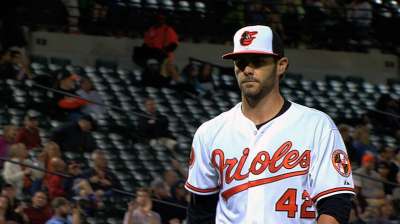 OAKLAND -- For Pedro Strop, getting traded to the Cubs means he's reunited with his friend, Kevin Gregg. For Matt Guerrier, it's a chance to get back on track.
The two relievers joined the Cubs on Wednesday at O.co Coliseum, taking the roster spots of Shawn Camp and Chris Rusin. Camp was designated for assignment, and Rusin, who started on Tuesday for Scott Feldman, was optioned to Triple-A Iowa.
Camp, 37, who was sidelined with a sprained right big toe in June, was 1-1 with a 7.04 ERA in 26 games with the Cubs. He gave up 34 hits and walked nine in 23 innings.
Cubs manager Dale Sveum called Camp the MVP of the first half last year when Camp compiled a 2.80 ERA in 43 games.
"Unfortunately, we had to outright Camp, which obviously wasn't my finest day as a manager," Sveum said. "It was tough, because Camp did so much for me my first year as manager and God knows where we would've been last year without him. Those days are tough when a guy's a great guy and obviously done a lot for you. He did a lot for me when I was managing in Double-A. We go way back. It was a tough day today."
The Cubs needed a starter to replace Feldman, who was dealt to the Orioles earlier on Tuesday, and Rusin filled in against the Athletics. He gave up three runs on six hits over 3 1/3 innings in the start, which he made on three days' rest.
Strop and Guerrier were acquired in separate deals. Strop was picked up from the Orioles along with Jake Arrieta, who was assigned to Iowa, while Guerrier was acquired from the Dodgers for Carlos Marmol.
Guerrier, 34, was 2-3 with three holds and a 4.80 ERA in 34 relief outings with the Dodgers before he was designated for assignment on Sunday. He and Gregg were teammates in Spring Training on the Dodgers, and had talked then about their roles.
"I was unsure about what was going to happen there in Spring Training with the amount of pitchers they had in camp and the decisions they had to make," Guerrier said of the Dodgers. "The way things worked out, they ended up needing all those starters and more. It was a weird situation that most teams don't run into."
Does he believe that a change of scenery will help him?
"We'll see," Guerrier said. "Obviously, things weren't going exactly as I'd like in L.A. We'll see how it goes."
Strop, 28, was one of the Orioles' primary set-up men last season, posting a 2.44 ERA in 70 appearances. This year, he missed time due to back problemos, and was 0-3 with a 7.25 ERA in 29 relief appearances.
"Obviously, I wasn't doing a good job there, so anything can happen," Strop said about being traded. "I'm just going to put that aside. I'm here, I'm a Cub now. I just want to help."
The right-hander said he changed his mechanics, and then struggled. Now, Strop said he feels back in his normal rhythm.
Carrie Muskat is a reporter for MLB.com. She writes a blog, Muskat Ramblings, and you can follow her on Twitter @CarrieMuskat. This story was not subject to the approval of Major League Baseball or its clubs.