Injury roundup: Bogusevic probable for Cards series
Injury roundup: Bogusevic probable for Cards series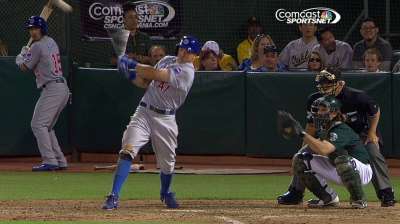 CHICAGO -- Brian Bogusevic, sidelined since July 4 with tightness in his left hamstring, could be back in the Cubs lineup in time to face the Cardinals on Thursday.
"He's pretty close," Cubs manager Dale Sveum said of Bogusevic, who was batting .290 before he was injured. "It looks like the way things have gone the last couple days, by the Cardinals series on Thursday, he should be ready to play in a game. I think he's at the point where he can pinch-hit and stay on the bases instead of using a pitcher to pinch-run before."
Catcher Welington Castillo also was feeling better after being scratched from Monday's game because he was feeling ill due to dehydration.
David DeJesus, on the disabled list since June 15 with a sprained right shoulder, was making progress, and able to hit in the cage and throw.
"It's getting there," DeJesus said Tuesday. "There are some movements that are like, 'oh,' [and it reminds me] something happened. I have to keep it tight."
He's tinkering with his hitting now.
"We're trying to find a swing that doesn't bother it but still not make a whole new swing out there," he said. "We have to find what works best."
Scott Baker, rehabbing from Tommy John surgery on his right elbow, threw four innings in his fourth simulated game on Tuesday in Mesa, Ariz. If all goes well, the next step for the right-hander could be a Minor League game. Baker could join the Cubs in a month if he continues to progress.
Carrie Muskat is a reporter for MLB.com. She writes a blog, Muskat Ramblings, and you can follow her on Twitter @CarrieMuskat. This story was not subject to the approval of Major League Baseball or its clubs.