DeJesus activated off DL; Sappelt optioned
DeJesus activated off DL; Sappelt optioned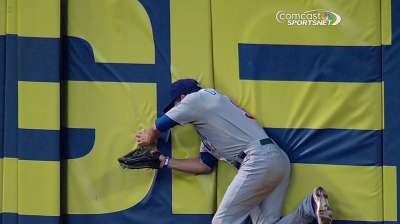 PHOENIX -- Cubs outfielder David DeJesus, sidelined since June 24 with a sprained right shoulder, was activated from the disabled list on Wednesday, and Dave Sappelt was optioned to Triple-A Iowa.
The next question, though, is how long will DeJesus stay with the Cubs?
DeJesus was injured when he crashed into the outfield wall at Citi Field. He played four rehab games for the Cubs' Rookie League team.
"When I'm at the plate, I'm not really worrying about it," DeJesus said of his shoulder.
Sappelt played 11 games in July, and was 10-for-30 with a double.
DeJesus started in center field and led off on Wednesday against the D-backs. Rookie Junior Lake, who had been playing center and had 12 hits in his first five games, shifted to left field.
"I thought about [the order] for 10, 15 minutes, and decided just get Lake at the top of the lineup, and it doesn't matter first or second," Cubs manager Dale Sveum said. "DeJesus' game is built for that spot. I've got 'Laker' in the second spot."
DeJesus' name has been mentioned in trade rumors, and Theo Epstein, president of baseball operations, did take time to talk to the outfielder, but not about a possible move. Instead, Epstein wanted to thank DeJesus, and tell him how much they appreciate his mentorship of the younger players. DeJesus showed that during his rehab stint with the Rookie League players, many of whom are teenagers.
"He's a really good baseball player, lived up to his contract. He's a left-handed bat who has the exact approach we're trying to teach in this organization," Epstein said. "There's a lot of value to having him here. That said, will we make him untouchable? No -- no one's untouchable. We'll sit and weigh out the options and what's best for the Cubs."
DeJesus was prepared.
"My name's been in the rumors before," he said. "It's nothing new. You've just got to be professional and play the game and see what happens from there."
Carrie Muskat is a reporter for MLB.com. She writes a blog, Muskat Ramblings, and you can follow her on Twitter @CarrieMuskat. This story was not subject to the approval of Major League Baseball or its clubs.