Sveum mindful of Gregg's extensive work
Sveum mindful of Gregg's extensive work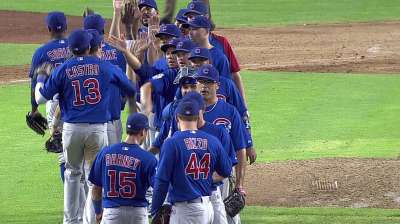 PHOENIX -- Kevin Gregg could use a breather.
The Cubs closer won't say that, but manager Dale Sveum feels the right-hander might be a little tired this month. In nine games, he's given up seven runs on 12 hits and nine walks over 10 innings, and was six for eight in save opportunities.
"Overall, I've given up more [hits and walks] in the last month than prior, but it's inflated by one outing," Gregg said of his July 14 outing against the Cardinals when he gave up four runs in one inning.
"I look at [Wednesday], and I gave up three hits, and two were broken-bat hits," he said of an outing against the D-backs. "You have to roll with the punches a little bit. Some things just didn't go your way. Yesterday was one of those outings. It seems like I've had a couple of those. I didn't feel that bad, and didn't get the results I wanted."
One of the things that frustrated the Cubs about Carlos Marmol was the amount of players he walked. Sveum would like to see Gregg cut down on that.
"The walks have hurt him," Sveum said. "The fastball down is not quite as down as it was earlier. Because we play so many of these same games, and we're one swing away from tying the game, and he gets up. We've been winning games on the road and he's had to pitch, and [warm up in] tie games, so his arm has been used a lot. We have to find ways to give him some rest."
Gregg hasn't retired the side in order in any of his July outings. He'd converted his first 12 save opportunities.
"The first two months, a lot of things went my way and I got balls hit to people, and they weren't getting those seeing eye balls," Gregg said. "I should be in the middle of that, and the balance will come out over the full season."
Carrie Muskat is a reporter for MLB.com. She writes a blog, Muskat Ramblings, and you can follow her on Twitter @CarrieMuskat. This story was not subject to the approval of Major League Baseball or its clubs.