Castro's English lesson to Lake paying off
Castro's English lesson to Lake paying off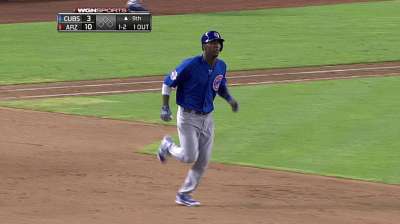 PHOENIX -- After Junior Lake's first four-hit game on Monday, he met with the media for the normal interview session. Lake was able to answer the majority of the questions in English.
Starlin Castro, who is three days older than Lake, 23, pressed his Dominican countryman to learn English.
"When I was in the Minor Leagues, I told him, 'You have to speak English at this level because you don't know who doesn't like you,'" Castro said. "If you have somebody [who] doesn't like you [is the interpreter], and [the media] asks a question, the other guy can say something different."
Castro got that advice from Oneri Fleita, who was the Cubs player development director for 12 seasons before he was dismissed in August 2012. Fleita is now a consultant for the Reds.
"One day, [Andres] Blanco translated for me," Castro said. "[Fleita] told me, 'I don't want to see you do that.' He said, 'You have to do interviews at this level by yourself.' I'm not scared to say anything. I watch TV and listen to English music."
Listening to English-language television shows and music supplemented the lessons given the Latin players in the Cubs system. Castro did take part in those but said it wasn't enough.
"You can say one word or two words, but [it doesn't teach how to have] a conversation," he said.
Castro, who made his Major League debut in May 2010, needed an interpreter early in his career. Now, he handles interview requests on his own.
"I'm not afraid to talk," he said. "If I say something bad, 'OK, how should I say that? How do I say that?' and I learn. When I text with my agent, I see how he texts me. I watch what he tells me, and I can write it, too."
Carrie Muskat is a reporter for MLB.com. She writes a blog, Muskat Ramblings, and you can follow her on Twitter @CarrieMuskat. This story was not subject to the approval of Major League Baseball or its clubs.