Samardzija, Sveum shrug off trade rumblings
Samardzija, Sveum shrug off trade rumblings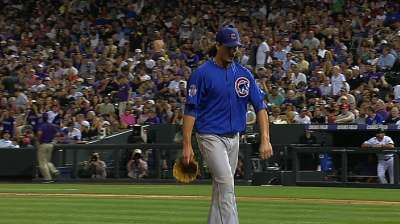 SAN FRANCISCO -- Players were razzing Jeff Samardzija on Saturday about being the latest Cubs pitcher to be highlighted in trade rumors, which manager Dale Sveum tried to squash.
According to FOX Sports' and MLB Network's Ken Rosenthal, the Cubs are listening to offers for Samardzija, 28, although the asking price would be high. The right-hander, who has a 3.94 ERA in 21 starts, has two arbitration years remaining.
"I don't think that's going to happen," Sveum said about dealing Samardzija. "We have control of a guy for 2 1/2 more years. I think somebody had to throw something out there and was bored and put some silly rumor out there."
Samardzija didn't have any inside information.
"We're in the position where we do what we're told and go where we're supposed to go," Samardzija said. "Obviously, we know when we pitch. I don't have a no-trade clause or anything like that, but I know I'm still protected and under control for a couple more years. It's out of my hands, out of my control."
When Samardzija was drafted in 2006, he signed a five-year, $10 million deal. He had a no-trade clause in that deal and didn't realize it's value at first.
"When I had it and I got to the big leagues and got a feel of what was going on and got a feel for the business side of things, it was an excellent thing to have," he said. "It allowed me to get situated in the big leagues, know I wasn't going anywhere, and it put us and the front office on the same page. I knew personally that I was going to be there, no matter what, and I was going to make it work.
"It also shows your commitment to the team and the city and that you want to be here through and through and that you're committed to this team."
His original contract included club option years for 2012 and '13, and the Cubs declined his option for 2012 and renewed his contract that year at $2.64 million. This year was his first arbitration year, and he avoided arbitration and signed a one-year, $2.64 million deal.
It's not about the money, he said.
"I don't put any importance on money anyways," he said. "Your numbers in baseball speak for themselves. That's what makes your money, that's what does everything. ... However you perform is how you get paid.
"Money isn't driving what I do. Competition and competing is driving what I do and winning is driving what I do. That's what it's all about."
Carrie Muskat is a reporter for MLB.com. She writes a blog, Muskat Ramblings, and you can follow her on Twitter @CarrieMuskat. This story was not subject to the approval of Major League Baseball or its clubs.