Sveum expects Samardzija to stay with Cubs
Sveum expects Samardzija to stay with Cubs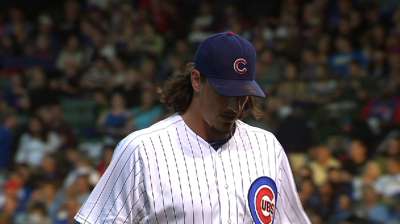 CHICAGO -- The non-waiver Trade Deadline is Wednesday at 3 p.m. CT, and manager Dale Sveum doesn't expect Jeff Samardzija to be doing anything but prepping for his next start with the Cubs.
Rumors continued to swirl Tuesday about the Cubs listening to offers for Samardzija.
"If somebody asks, sure," Sveum said on whether the Cubs were keeping an open mind. "That's not my job, so I don't know what goes in those kind of meetings. It's not realistic [to deal Samardzija]."
The Cubs would have to be offered a lot to part with the 28-year-old right-hander who is under team control for two more years.
"This is me speaking, but I would think it's very, very far-fetched to think that you have a guy under control for that long, and possibly a No. 1 guy, to do anything with him," Sveum said. "Those are things that pop up and somebody will say, sure, you'll listen. But are you going to want to trade half your team [to get Samardzija]?"
Meanwhile, Kevin Gregg and Nate Schierholtz wait to see if they will stay with the Cubs past the Deadline.
"It is a compliment to be rumored," Sveum said. "Some people get to be part of a pennant race and get to the playoffs and do some fun things."
The Cubs have been the most active team this month, trading Alfonso Soriano, Scott Feldman, Matt Garza, Scott Hairston and Carlos Marmol, as well as moving some Minor Leaguers. A year ago, they acquired Arodys Vizcaino, who is still rehabbing from Tommy John surgery on his right elbow, from the Braves in the Paul Maholm deal. Vizcaino is projected to be a top starter when healthy.
Right-hander C.J. Edwards, acquired from the Rangers in the Garza deal, had a stellar debut for Class A Daytona on Sunday, striking out the first seven batters he faced.
"When you do [make trades], you want quality players," Sveum said. "I think we got some quality arms. C.J. Edwards struck out the first seven guys he faced the other day. These are the kind of replacements and pieces you want to get in return -- [guys] who can possibly be impact players."
Carrie Muskat is a reporter for MLB.com. She writes a blog, Muskat Ramblings, and you can follow her on Twitter @CarrieMuskat. This story was not subject to the approval of Major League Baseball or its clubs.