Fujikawa eager to prove himself next season
Fujikawa eager to prove himself next season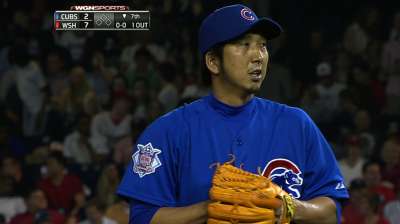 CHICAGO -- Two days before the first 10,000 fans at Wrigley Field will receive his bobblehead, Cubs reliever Kyuji Fujikawa said on Thursday that his recovery from Tommy John surgery is going well.
The right-handed reliever, who appeared in only 12 games before undergoing surgery on June 11, is hopeful that he'll be able to contribute to the Cubs next year.
Typical recovery time for Tommy John surgery is 12 to 18 months.
"I think it's progressing well at this point, and hopefully I can come back strong next year and be a part of the team," Fujikawa said through a translator.
Fujikawa, 33, said he's content to not rush his rehab, which is in the very early stages.
Fujikawa was 1-1 with a 5.25 ERA and .239 average against this season, striking out 14 in 12 innings and going 2-for-3 in save opportunities. He was in the closer's role before a strained right forearm landed him on the disabled list in April, but was impressive upon his return, posting a 1.17 ERA in seven appearances.
With closer Kevin Gregg a free agent following the season and no other ninth-inning option on the roster, Fujikawa said he hopes to be the Cubs' closer in 2014.
"That was a goal when I first came to this team, so hopefully I can come back strong and kind of work toward that goal when I am actually back pitching," said Fujikawa, who signed a two-year, $9.5 million deal with a vesting option for 2015 in December.
Fujikawa said he hopes fans hold onto Saturday's giveaway in anticipation of the day he's a ninth-inning regular at Wrigley Field.
"I can't pitch anymore this season, but hopefully I can come back strong next year," Fujikawa said. "Hopefully the fans that received the bobblehead will be happy that they kept it."
Cash Kruth is a reporter for MLB.com. Follow him on Twitter at @cashkruth. Manny Randhawa is an associate reporter for MLB.com. Follow him on Twitter at @MannyBal9. This story was not subject to the approval of Major League Baseball or its clubs.