Murphy on an impressive power tear for Cubs
Murphy on an impressive power tear for Cubs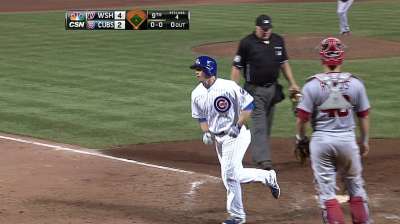 CHICAGO -- Donnie Murphy is on a roll, and it's one that few -- including a former teammate -- can match.
The utility man has forged his way into the everyday lineup with a power display -- seven home runs since Aug. 6 -- that no one in the National League can match. The only other player in baseball with more homers in that span is Detroit's Miguel Cabrera (eight). Murphy's total is second most in baseball, tied with Alfonso Soriano, who was traded to the Yankees on July 26.
"It's been one big bright spot the last couple weeks since he's been here," manager Dale Sveum said. "That goes unsaid, [home runs are] how we score runs, and he's been a big part of winning some games for us and giving us leads and getting us back in games with some home runs. It's huge, putting a guy in the lineup that was really kind of here to be more of a utility player, and then he just played himself into playing every day."
Third base has been a position in flux this season -- the injured Luis Valbuena has gotten the bulk of the playing time, with Cody Ransom helping out after Ian Stewart's tenure with the Cubs didn't pan out. It's given Murphy a chance after he was released by the Brewers in late March.
With four doubles in addition to the seven homers in that time, Murphy's .891 slugging percentage led the Majors entering Wednesday. His seven homers came in a span of 46 at-bats (one every 6.6 at-bats). He had previously hit 18 big league homers in 579 at-bats (one every 32.2 at-bats).
"Fifty percent of me is [surprised], fifty percent of me isn't," Murphy said. "I know I'm capable of driving some balls out sometimes. But I've been getting some good pitches to hit and just putting good swings on them. I'll take what I can get."
Joey Nowak is a reporter for MLB.com. Follow him on Twitter at @joeynowak. This story was not subject to the approval of Major League Baseball or its clubs.