Cubs struggling to win at Wrigley
Cubs struggling to win at Wrigley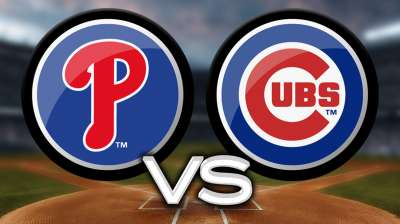 CHICAGO -- Home hasn't been too sweet for the Cubs.
They've played 67 games at home and 67 on the road entering Saturday's game against the Phillies, and the Cubs have a 25-42 record at Wrigley Field compared to 31-36 on the road.
"For whatever reason at home, I think we struggle late in innings as much as anything," Cubs manager Dale Sveum said on Saturday. "We struggle late in innings to score and add on, which is the big thing here. We seem to do that more on the road and add on runs.
"Is it random? Who knows?" Sveum said. "Last year, it was completely flip-flopped. It's hard to put a finger on it. Those are things you just don't understand, but there's no rhyme or reason to it."
For the season, the Cubs are batting .231 after the seventh inning in all games, home and road, which ranks 12th in the National League. They're batting .241 from the first through sixth innings, which is 13th in the NL. Chicago's pitching staff does have the worst ERA (4.44) in the NL from the seventh inning on.
The Cubs may be struggling at home, but they're averaging 33,155 fans at Wrigley, and Sveum says he appreciated the fans' patience.
"We have great fans, and right now, some understanding fans," he said. "With the young kids, and waiver wire pickups and trades, and losing [David] DeJesus and [Alfonso] Soriano offensively, I think there's some understanding. But at the same time, that understanding doesn't last too long either."
The Cubs won for only the fourth time in their last 21 home games on Saturday, earning a 4-3 decision over the Phillies in front of 36,410 at Wrigley.
Carrie Muskat is a reporter for MLB.com. She writes a blog, Muskat Ramblings, and you can follow her on Twitter @CarrieMuskat. This story was not subject to the approval of Major League Baseball or its clubs.