Baker hopes to make impression on Cubs
Baker hopes to make impression on Cubs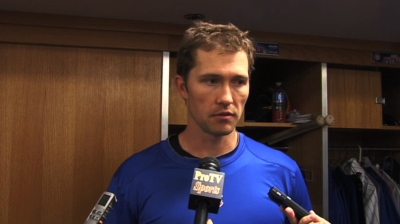 CHICAGO -- Scott Baker will make his final Minor League rehab start on Monday for Class A Kane County. The right-hander, who is coming back from Tommy John surgery, hopes his next outing after that will be with the Cubs.
Baker's rehab was interrupted by rain, as the weather in Florida kept forcing games to be cancelled when he was scheduled to pitch for Class A Advanced Daytona.
"I'd never seen anything like it," he said.
Apparently, because of where the Daytona ballpark is located, and the tide, if there is more than 30 minutes of rain, the ballpark gets flooded. And it rained for three or four days in a row.
In his last outing for Kane County, he gave up one hit in five scoreless -- and dry -- innings.
"For me, it's just about making pitches, and I feel like I'm making pitches," Baker said on Saturday. "Some of the arm speed is starting to come back. I know that takes time. Just being a realist, it's a long time since I've pitched competitively. There's only one way to gain the arm speed and that's to pitch."
His goal is still to pitch for the Cubs in the final month of the regular season. His last big league outing came on Sept. 24, 2011, for the Twins.
"As long as I can make pitches, I think I can be competitive," Baker said.
He knows how many pitches and innings he needs to convince the Cubs front office that he's ready.
"I'm cutting it close, for sure," he said of the timing. "I feel if I can get to that six-inning, 90-pitch mark, then that puts me right in line to start a game at the Major League level. Of course, that decision is totally up to them. I really can't complain one bit, because things have been great, and they've taken good care of me and allowed me to take my time and made sure I'm just not healthy for the short term but for the long term."
Baker, who had the surgery in April 2012, signed a one year, $5.5 million contract with the Cubs last November, and had hoped to be pitching sooner than September. The final month involves evaluation, and Baker is ready.
"I know it hasn't worked out like anybody would've liked," he said of the season. "Nobody wants to be out there more than me pitching for these guys, and even if it's just a little bit, it's better than nothing.
"I understand there's a lot of things going on here, and there's guys getting looks," he said. "Obviously, the decision is up to them as to whether I'm part of the future or not. I'm doing the best I can and doing everything I humanly know how to get ready and do the best I can with this next month."
Carrie Muskat is a reporter for MLB.com. She writes a blog, Muskat Ramblings, and you can follow her on Twitter @CarrieMuskat. This story was not subject to the approval of Major League Baseball or its clubs.