Cubs claim Bard off waivers from Red Sox
Cubs claim Bard off waivers from Red Sox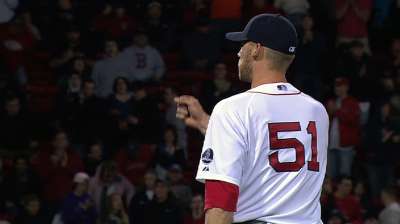 CHICAGO -- Theo Epstein selected Daniel Bard in the first round of the 2006 First-Year Player Draft when he was the general manager of the Red Sox, and on Wednesday, Epstein, now president of baseball operations for the Cubs, picked the right-hander again.
The Cubs claimed Bard, once considered one of the best setup pitchers in baseball, off waivers from the Red Sox, and the right-hander was expected to join the team Friday at Wrigley Field. Bard, who has struggled with his consistency this season, will work with Cubs pitching coach Chris Bosio on the side.
"This guy was arguably the best setup guy in baseball a few years ago, and now he's healthy and we got a big power arm," Cubs manager Dale Sveum said Wednesday. "Theo has a lot of confidence in him, and you know as well as we do that this guy was one of the best -- if not the best -- not too long ago."
The right-hander broke into the Majors with the Red Sox in May 2009 and was an effective setup pitcher for closer Jonathan Papelbon. He set Red Sox records in '10 and '11 for holds, with 32 and 34, respectively. The Red Sox tried to convert him to a starter prior to the '12 season, but he went 4-6 with a 5.30 ERA in 10 starts.
Bard pitched at three levels in Boston's Minor League system this year, and he appeared in 16 games, totaling 15 1/3 innings. He has thrown 11 wild pitches and walked 27, while giving up 11 earned runs and 14 hits.
"I'm not surprised that the Cubs would claim him, given the familiarity with Theo and Jed [Hoyer, general manager], who drafted him here," Red Sox manager John Farrell told reporters Wednesday. "I guess the most important thing is that we wish him well. We hope he gets back on track. There's still a good pitcher in there once he gets back on track."
The right-hander is 10-19 with five saves and a 3.67 ERA in 211 big league appearances (10 starts) with the Red Sox covering all or part of the last five seasons (2009-13). Overall, Bard has a 3.24 ERA in 201 relief appearances and a 5.30 ERA in 10 starts. On Monday, Bard, 28, was designated for assignment.
"I'm not going to say that he can't [come back]," Farrell said. "There's still a player and a pitcher there that's motivated, and yet anytime that there's activity disrupted by an injury, that's going to slow that process. Time was of the essence with us. We needed the roster space. But it needs, based on what we saw over the last couple of years, it needs to be built back gradually. How long that takes is the unknown in this."
Bard started this year at Double-A Portland, and he was recalled after eight appearances. On April 27, in his second appearance for the Red Sox, he walked two batters on nine pitches and was pulled from the game, then returned to Portland two days later. He missed time because of a right oblique strain.
To make room for Bard on the Cubs' 40-man roster, outfielder Cole Gillespie was designated for assignment. Gillespie batted .203 (12-for-59) with two doubles and four RBIs in 28 games with the Giants and Cubs this season.
Carrie Muskat is a reporter for MLB.com. She writes a blog, Muskat Ramblings, and you can follow her on Twitter @CarrieMuskat. This story was not subject to the approval of Major League Baseball or its clubs.