Baker to start on Sunday for first time since 2011
Baker to start on Sunday for first time since 2011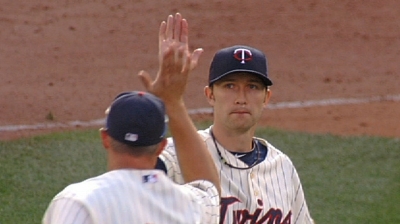 CHICAGO -- Scott Baker will get to start after all.
The right-hander, who has spent the season rehabbing from the Tommy John surgery he underwent in April 2012, will start on Sunday in the series finale against the Brewers at Wrigley Field. Earlier this week, manager Dale Sveum said that Baker would not start, but the pitcher lobbied.
"They definitely valued my opinion," Baker said of the conversation he had with Sveum and pitching coach Chris Bosio. "I said, 'I feel like I need to pitch, I want to pitch.' I appreciate the opportunity to get back out there. It's going to be fun for sure."
Baker, 31, said that his family would be at the game.
"It's been a long while since I started a Major League game, and there's definitely a lot to be excited about," he said. "Regardless of the results, I think you go out there and do the best you can and enjoy it. You never know when things are going to be taken away from you. You appreciate every start."
Baker's last big league start was on Aug. 8, 2011, for the Twins. He made two relief appearances the following month.
"He's done everything we've asked and worked his [behind] off," Sveum said on Friday. "There haven't been any setbacks, and I think he deserves a chance to start. We'll see what happens when the third deck [of the stadium] gets on there. He'll be the first one to say his stuff doesn't have the life, but you put the third deck on a stadium and find out with the adrenaline and all that. I think he deserves the right to do that."
The Cubs signed Baker to a one-year, $5.5 million contract this year; there is no option for 2014.
"It's good for all parties, obviously [for] us and for him as much as anything," Sveum said about Baker pitching now. "This is a guy coming off Tommy John, and he's had to be down in Arizona the whole year, and he's done everything we've asked and been the ultimate professional and worked hard. It is good for him going into the winter, and good for us to see and evaluate to see what's going to go on after this."
But Baker isn't looking too far ahead.
"We had conversations about what to do next, and they value my opinion," Baker said. "I thought it was important for me to pitch and pitch through September. I just told them there's no way I can sit here and say I want to not pitch in a Major League game after going through this rehab process for two seasons. I'm just excited."
Baker spent a long time rehabbing at the Cubs' facility in Mesa, Ariz., and he made eight Minor League rehab starts for Class A Kane County and high Class A Daytona combined, giving up 18 earned runs on 35 hits and 10 walks over 29 2/3 innings while striking out 16.
"Physically, I feel great," he said. "I think surgery was a long time coming for me. I'd dealt with some elbow issues for a couple of years, and it was really a battle to get loose and stay loose. Every start was a process.
"I feel like I'm still the same guy. I'm not in presurgery [form], and I think everybody knows that. I do think I will get there at some point, whether it's this September or next season. Nothing's ever come easy for me. I've always had to figure things out and work hard."
For now, the Cubs will simply push the starters back one day. They will not go to a six-man rotation, but Sveum isn't sure what will happen the rest of the month.
"We'll cross that bridge when we get to it," Sveum said. "Let him start on Sunday, and evaluate and see where we are then."
Carrie Muskat is a reporter for MLB.com. She writes a blog, Muskat Ramblings, and you can follow her on Twitter @CarrieMuskat. This story was not subject to the approval of Major League Baseball or its clubs.