Sveum endorses Barney for second Gold Glove Award
Sveum endorses Barney for second Gold Glove Award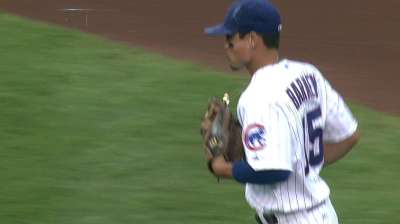 CHICAGO -- The Cubs' Darwin Barney leads all National League second basemen in fielding percentage, which would make him the favorite to repeat as the NL Gold Glove Award winner at that position. Barney just hasn't gotten as much attention about his defensive play this year, because he isn't pursuing the Major League record for error-free games.
Last year, Barney tied the Major League single-season record with 141 consecutive errorless games at second and won his first Rawlings Gold Glove Award.
"He hasn't done anything for anybody to take it away from him," Cubs manager Dale Sveum said of his second baseman. "He's had a heck of a year defensively again. The way he turns a double play, tough double plays, he's the incumbent and somebody has to take it away from him. I don't see anybody doing that."
Barney leads NL second basemen with a .993 fielding percentage; the Twins' Brian Dozier and the Red Sox's Dustin Pedroia lead the Majors with a .994 figure. Barney has been charged with four errors in 123 games, one more than he made in 155 games last season.
He's not flashy, but he will likely face competition from the Reds' Brandon Phillips, the Pirates' Neil Walker and the Cardinals' Matt Carpenter.
"Sometimes people do things without having 'web gems' and that's why they're the best at their positions," Sveum said.
Barney was tied with the Braves' Dan Uggla for fifth in double plays (68) and was fourth in putouts entering Saturday's game.
"It's definitely a goal of mine every year to win a Gold Glove," Barney said. "I don't think it's my No. 1 goal. My No. 1 goal is to win 90, 95 games and make the playoffs.
"On a personal level, having the season I've had defensively this year, if I don't win the Gold Glove, I'd still be satisfied and feel I helped the team defensively. Leading the league in defense at second base is something I take pride in."
Barney is aware that there are players who make more acrobatic plays.
"The coaches and managers vote," Barney said. "They're players. They understand. I don't think they're going to vote someone in because they make 'web gems,' they'll vote someone in who deserves the award. If someone else wins, that person deserved the award among their peers, and that's fine with me.
"Last year with the [errorless] streak, there was a lot to be talked about. This year, it's one of those years where it's a normal year. There's no streak. It's been a good year and every error could be prevented, and I'll look back on the film on the ones I've made and not let them happen again."
Carrie Muskat is a reporter for MLB.com. She writes a blog, Muskat Ramblings, and you can follow her on Twitter @CarrieMuskat. This story was not subject to the approval of Major League Baseball or its clubs.