Sveum likes Castro hitting leadoff for Cubs
Sveum likes Castro hitting leadoff for Cubs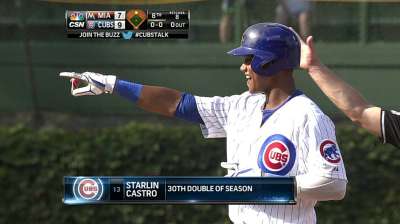 CINCINNATI -- Although Starlin Castro has three straight hitless games after going 0-for-4 in Monday's 2-0 win against the Reds, manager Dale Sveum has been pleased with the shortstop's approach since being inserted into the leadoff spot on Aug. 21.
Castro's numbers in the 17 games before the series opener in Cincinnati weren't necessarily eye-opening. He hit .243 (18-for-74) in that stretch to go with two homers and seven RBIs. He also drew five walks while striking out 10 times.
"That was probably as good as he swung the bat all year long in a 10-day, two-week period," Sveum said. "He actually hit into some bad luck, too. I thought he had one or two more home runs if the wind wasn't blowing in. Lined a couple balls in some big situations right at people."
The day before Castro made the first of 18 straight starts batting leadoff, he hit eighth -- the lowest he had been in the order for a game he started all season. Whether or not Castro used that as motivation, Sveum wasn't sure. However, he said some players tend to perform better in certain spots in the lineup, and batting leadoff could provide Castro with a spark as he tries to finish his worst Major League season offensively on a strong note.
"He's not the prototypical on-base guy or anything like that, but right now, if we get him going in a spot that he's obviously flourished in before, it's a way to maybe get him going," Sveum said. "Like I've said before, nobody has a crystal ball for why people hit better in certain spots. Realistically, you just have an at-bat, it doesn't matter. But some people do hit better in different spots. That's the way it is."
Jeremy Warnemuende is a reporter for MLB.com. This story was not subject to the approval of Major League Baseball or its clubs.