Six-man rotation gives Samardzija more rest
Six-man rotation gives Samardzija more rest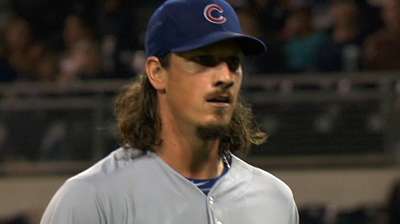 PITTSBURGH -- The Cubs have switched to a six-man rotation to give Scott Baker more starts, which should also help Jeff Samardzija.
A year ago, Samardzija was shut down on Sept. 8 after totaling 174 2/3 innings in 28 starts, his first season in the rotation. On Wednesday, he made his career-high 30th start, and now has 194 2/3 innings. He is five strikeouts from 200 for the season.
"He's never been there before," Cubs manager Dale Sveum said of the right-hander, who has given up 17 runs over 18 1/3 innings in his last three outings. "I'm not going to say that's the reason for the struggles. The last two outings [against the Marlins and Reds] have been in the worst heat of the year. Who knows? You don't have the answers for everything. The bottom line is being able to make that pitch."
Building up innings can only help Samardzija next season, Sveum said.
"We didn't baby anything [this season]," Sveum said. "It's the first time an arm and a body and everything has gone through those trials and tribulations of a full Major League season."
Carrie Muskat is a reporter for MLB.com. She writes a blog, Muskat Ramblings, and you can follow her on Twitter @CarrieMuskat. This story was not subject to the approval of Major League Baseball or its clubs.