Minors coach Duncan impressed with prospect Baez
Minors coach Duncan impressed with prospect Baez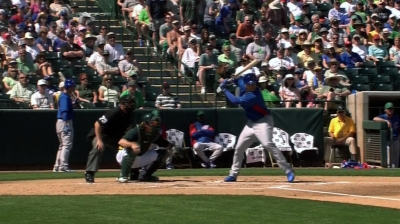 PITTSBURGH -- Mariano Duncan was surprised to get a text from Cubs' top prospect Javier Baez thanking the former big leaguer for all he did as the shortstop's hitting coach at Class A Daytona.
Duncan, who was with the Cubs Friday in Pittsburgh, said Baez sent the message before the Minor League season ended.
"He said, 'Thank you for having patience with me for the whole year. It means a lot to me,'" Duncan said. "I texted him back and said, 'Thank you for listening and making the adjustments.' When I texted him back, I said, 'Don't thank me for that. I get paid to do that and to try to develop you guys and make you a better player.' All the credit should go to him. He works so hard and he listens. He did everything he is supposed to do on the field."
On Friday, Baez was named the Cubs' Minor League Player of the Year after he combined to bat .282 with 34 doubles, four triples, 37 home runs and 111 RBIs in 130 games between Daytona and Double-A Tennessee.
Duncan, 50, said he was impressed with the way Baez recovered from a slow start to post the stellar numbers. The two studied video to see how pitchers were approaching him, and Duncan emphasized being prepared and repeating his mechanics.
"The only thing thing I'm concerned about with him is to pay attention to detail and come every day to play the game right," Duncan said. "He had a little bit of a problem in the beginning, but he made the adjustments and you see what kind of year he had.
"One thing I texted him was that the only thing I want from him is when he goes to the big leagues to stay humble, and when he gets to the big leagues, be the same Javy that he is right now in the Minor Leagues," Duncan said. "He texted me back and said, 'I promise I'll do that.' He's got all the ability to be a good, solid Major League player. He has a great future in front of him. You'll see that kid in the big leagues plenty soon."
Cubs fans eager to see the club's 2011 No. 1 Draft pick on the big league team want to know how soon.
"It's up to him right now," Duncan said of the 20-year-old shortstop. "He has the ability to be a good, everyday player in the big leagues. Now it's up to him as to how quick he'll be there. The way he developed, he's getting very close to be there."
Carrie Muskat is a reporter for MLB.com. She writes a blog, Muskat Ramblings, and you can follow her on Twitter @CarrieMuskat. This story was not subject to the approval of Major League Baseball or its clubs.