Cubs' infield saving plenty of runs this season
Cubs' infield saving plenty of runs this season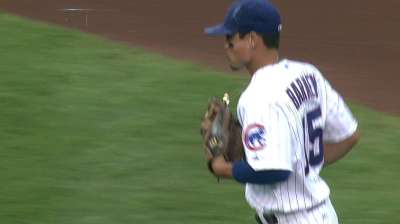 PITTSBURGH -- The Cubs' Darwin Barney leads all National League second basemen in fielding percentage entering Saturday, and first baseman Anthony Rizzo is first in several defensive stats as well. Both are in contention for Gold Glove Awards.
"You've got three guys really -- [catcher Welington Castillo], [Rizzo] and Barney," Cubs manager Dale Sveum said. "You put all our third basemen together and they've done a good job, too."
Donnie Murphy is one of the six players who have started at third this year for the Cubs. He's been impressed by the infield defense.
"The main thing I see [with Barney] is he makes every play," Murphy said Saturday. "There are a lot of flashy guys out there who make ridiculous plays but there are balls they don't get to, and everybody sees the flash and not the overall picture.
"Every ball that's hit to [Barney], he gets it," Murphy said. "He may not make the incredible plays you see on 'SportsCenter' and all that, but to me, that doesn't really matter. As long as you have the fundamentals and make the plays, that's what matters."
What about Rizzo?
"He covers a lot of ground and has a really good glove," Murphy said of the first baseman. "It feels like he scoops everything. I was surprised at how well he was with the glove."
For the stats-minded fans, Rizzo leads all Major League first basemen in defensive WAR (0.6) and leads all NL first basemen with an .899 ultimate zone rating. He's second in the NL with a .996 fielding percentage this season.
Barney, who won his first Gold Glove Award last season, leads all Major League second basemen in defensive WAR (1.4) and has made four errors this season. His .993 fielding percentage is the best in the NL. He began the season with a 71-game errorless streak and takes an active 39-game errorless streak into Saturday's game.
Shortstop Starlin Castro does lead NL shortstops in errors, but he has made just four in his last 70 games starting June 26. He has an .879 ultimate zone rating during that span, second best among NL shortstops.
"They've saved a lot of runs and done a lot of good things over there," Sveum said of his infield.
Carrie Muskat is a reporter for MLB.com. She writes a blog, Muskat Ramblings, and you can follow her on Twitter @CarrieMuskat. This story was not subject to the approval of Major League Baseball or its clubs.