Man with plan: Sveum takes stock of season
Man with plan: Sveum takes stock of season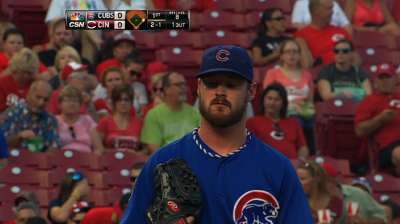 PITTSBURGH -- The Cubs have two weeks left in the season. In manager Dale Sveum's first year, the focus was on introducing the "Cubs Way." Has Sveum accomplished what he wanted in Year 2?
"I think so," Sveum said Sunday. "The wins and losses are one thing. Guys are doing things, playing hard, constantly preparing, buying into some systems."
Part of that adjustment involves pitchers sticking to the game plan established prior to the game and trusting catcher Welington Castillo, Sveum said.
"It's taken a little while, and it's going to take another Spring Training to get the pitchers to understand what 'Welly' does behind the plate and the studying and the game plans," Sveum said. "When we've stuck to game plans, we've done well, and when we shy away from them, we've given up big hits in games. It's gotten better."
The player who has benefited from doing his homework is All-Star Travis Wood, who leads the team with 22 quality starts and faced the Pirates on Sunday. Sveum said Scott Feldman and Paul Maholm also bought into what they were trying to do and had success. To simplify the plan, the focus is pitching to a hitter's weakness and staying away from his strengths.
"It's making that quality pitch when you have to make it and putting guys away with two strikes, like we talk about a lot," Sveum said. "Guys like Jeff [Samardzija] get to two strikes and have trouble putting them away. When you have stuff like that, you need to put them away quickly and not let the at-bat get away from them. We have to pitch to guys' weaknesses and stay in that weakness area."
Carrie Muskat is a reporter for MLB.com. She writes a blog, Muskat Ramblings, and you can follow her on Twitter @CarrieMuskat. This story was not subject to the approval of Major League Baseball or its clubs.