With evaluation coming, Epstein praises Sveum
With evaluation coming, Epstein praises Sveum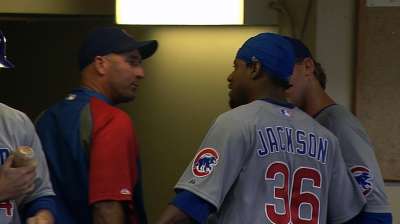 MILWAUKEE -- Theo Epstein, Cubs president of baseball operations, said Dale Sveum had done a remarkable job maintaining a good clubhouse despite two rough seasons, but he also acknowledged the manager was being evaluated with the rest of the coaching staff and that a decision on Sveum's future would be made after the season.
Asked directly whether Sveum would be back in 2014, Epstein said there would be a checklist, adding that there were "no alarm bells to ring," but it is a subject that will be addressed once the evaluation process is completed.
Epstein met with Sveum on Tuesday at Miller Park for about four hours to go over the roster, the coaching staff and the manager's performance.
Sveum was tested Monday when he and pitcher Edwin Jackson clashed in the dugout because the right-hander was not happy about being pulled after four innings. It was the first public incident in Sveum's two seasons with the Cubs.
"With respect to keeping the clubhouse incident-free, I think he's done a remarkable job," Epstein said Tuesday. "That really is the first such incident in two very difficult seasons, which I think is a feather in Dale's cap."
Epstein complimented Sveum's demeanor rubbing off on the players in the clubhouse.
"There haven't been many conflicts with players," Epstein said. "Obviously, everything hasn't gone the way we wanted the last two years, but as far as incidents and tempers flaring, there haven't been that many. I think teams sometimes take on the personality of their manager, and Dale being so even-keel has rubbed off on the atmosphere here."
The Cubs lost 101 games last season, and though they will not reach 100 losses this year they could finish last in the National League Central.
"I think we've been very up front that we're not evaluating Dale on wins and losses," Epstein said. "Our record is more of a reflection of the roster that we've put on the field as a baseball operations department and where we are in this building process. I don't hold Dale accountable for the record."
In lieu of looking at the record, Epstein cited the development of young players, in-game decision making; the way Sveum used the roster; the manager's ability to create a culture of accountability, hard work and preparation; and the ability to develop solid, trusting relationships with players. The latter is important when dealing with adversity.
"Dale's been given a difficult hand to play at times by us," Epstein said. "There are certain categories where it's hard to evaluate him. Any time an organization suffers back-to-back last-place seasons, you have to examine every single aspect of the organization. We're looking at our own decision-making process in the front office and evaluating the players."
There is no timetable, except that a decision will be made after the regular season ends.
"I think, as a whole, Dale has had a nice calming effect on the club," Epstein said. "I think he's established a level of professionalism here that's admirable and held his head up high in difficult circumstances in the course of two years."
Carrie Muskat is a reporter for MLB.com. She writes a blog, Muskat Ramblings, and you can follow her on Twitter @CarrieMuskat. This story was not subject to the approval of Major League Baseball or its clubs.