Baker looking to impress in final 2013 outing
Baker looking to impress in final 2013 outing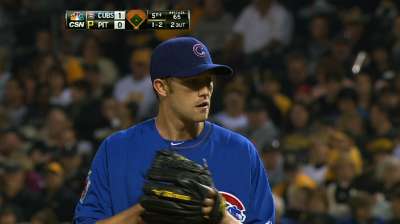 MILWAUKEE -- Scott Baker will make his third and final start of the season on Friday, and is hoping he can convince a team, possibly the Cubs, that he's ready for 2014.
Baker has spent this year rehabbing from Tommy John surgery on his right elbow, which he had in April 2012. He expected to be pitching for the Cubs sooner than September, but wasn't able to return as quickly as he'd hoped. In his first two starts for the Cubs, he's totaled 55 pitches and 75 pitches, respectively.
"Knowing it's my last start, I'd like it to go well," Baker said Thursday. "Of course, I'd like to progress from the last couple where it was 55 pitches, and then 75 or so. To kind of almost be back to a normal pitch count would be great."
His goal is to show that he's not only healthy, but reliable, and he can make every start.
"Just going out there in itself is important," he said. "It already is positive, the fact that I'm going out there."
It's been a long season, which has included eight Minor League starts. In his two big league outings, he's given up one run over 11 innings. Friday will be his first career start against the Braves, and his family will be present for the outing. Baker is pumped.
"I don't care what you do to prepare for a Major League start, whether it's Minor League games or simulated games, there's just no duplicating a Major League start," he said. "After that first start, it was only 55 pitches, but I had normal soreness [the day after]. I felt like that was a good sign.
"After the second one, it was a little better," he said. "I felt at this point in the season, as much as I'm ready to have a good, normal, productive offseason, I feel I'm getting stronger. I think that's a good sign. We'll just have to see where it lands me. I do feel like I'm not as much of a question mark as maybe I was going into this season. I feel better about going into next season."
Baker signed a one-year, $5.5 million contract with the Cubs, and he does not have an option for 2014.
Carrie Muskat is a reporter for MLB.com. She writes a blog, Muskat Ramblings, and you can follow her on Twitter @CarrieMuskat. This story was not subject to the approval of Major League Baseball or its clubs.