Sveum expects Lake to play winter ball
Sveum expects Lake to play winter ball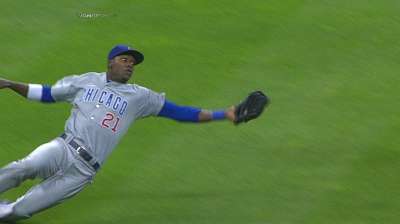 CHICAGO -- Junior Lake has done well in his first two months at the big league level, but Cubs manager Dale Sveum said the outfielder is still learning and will probably play winter ball to get more experience in the outfield after playing primarily as an infielder in the Minor Leagues.
Lake entered Sunday's series finale with the Braves hitting .305 in 220 at-bats. His 67 hits since the All-Star break led all Major League rookies. Sveum said Lake has shown he can hit in the Majors, but is learning how to make his own adjustments when opposing pitchers change their approach against him.
"Not being so aggressive at the plate, cutting down on two strikes, and the willingness to drive the ball up the middle and hit the outfield grass with men in scoring position [are some things he needs to work on]," Sveum said.
"Obviously, he's hitting .300 in the big leagues and doing some good things at the plate and learning in the same process that these guys can pitch to a scouting report, and how [to] change and adjust to what they're doing. All those things start happening in the big leagues."
Defensively, Sveum said there's no substitute for practice in the outfield for the rookie.
"[Lake's] learning process is still going on for the outfield," Sveum said. "He just needs a lot more reps, whether it's winter ball and then Spring Training and all that to just see balls off the bat. You can take all the fungos and all that stuff you want. In the outfield it's just not the same as fly balls off the bat.
"I'm not positive, but I'm sure he'll play [winter ball]. He needs to get a lot more reps in the outfield."
Manny Randhawa is an associate reporter for MLB.com. This story was not subject to the approval of Major League Baseball or its clubs.