Cubs work with Castro on getting in better shape
Cubs work with Castro on getting in better shape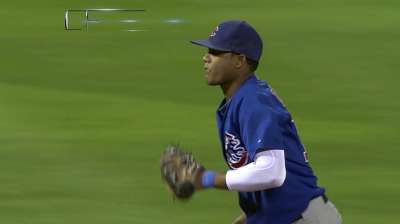 LAKE BUENA VISTA, Fla. -- The Cubs are making sure shortstop Starlin Castro reports to Spring Training in better shape.
The team assigned strength and conditioning coach Tim Buss to the Dominican Republic to work with Castro for three weeks in November. In January, Castro will start workouts at the Cubs' facility in the Dominican.
The shortstop is coming off his worst year, batting .245 this past season. Cubs general manager Jed Hoyer said other teams have expressed interest in Castro, knowing the team has shortstop Javier Baez coming up in the organization.
"We've always gotten hits on [Castro]," Hoyer said Monday during his media briefing at the Winter Meetings. "I think people see him as a guy who was one of the best young players in the game a couple years ago."
In 2011, Castro totaled 207 hits and batted .307, and followed that in 2012 with a .283 season. He asked the Cubs to help him as far as an offseason workout.
"I think he was frustrated by his season," Hoyer said. "I would be very surprised if he didn't show up at Spring Training in great shape, ready to go. I hope we look back on [the 2013 season] four, five years from now as a good learning experience for him and a wakeup call, if you will."
Castro did play 161 games this year, but Hoyer said to do that, a player needs to be "in really unbelievable shape." The Cubs are banking on Castro, which is why they gave him a seven-year, $60 million contract in 2012.
"I think we felt like there's no reason he can't be a little faster and he can't have more range than he does," Hoyer said. "He's at that age -- he's going to be 24 years old [in March]-- where he's going to start to put on a little bit of that man strength.
"He was a college-age kid when he came up, and I think he can start to put on that muscle mass now and maybe that does improve his speed, his range, his power," Hoyer said. "It's something he wanted to do and we certainly encouraged it."
Carrie Muskat is a reporter for MLB.com. She writes a blog, Muskat Ramblings, and you can follow her on Twitter @CarrieMuskat. This story was not subject to the approval of Major League Baseball or its clubs.