Renteria confirms Cubs have met with Tanaka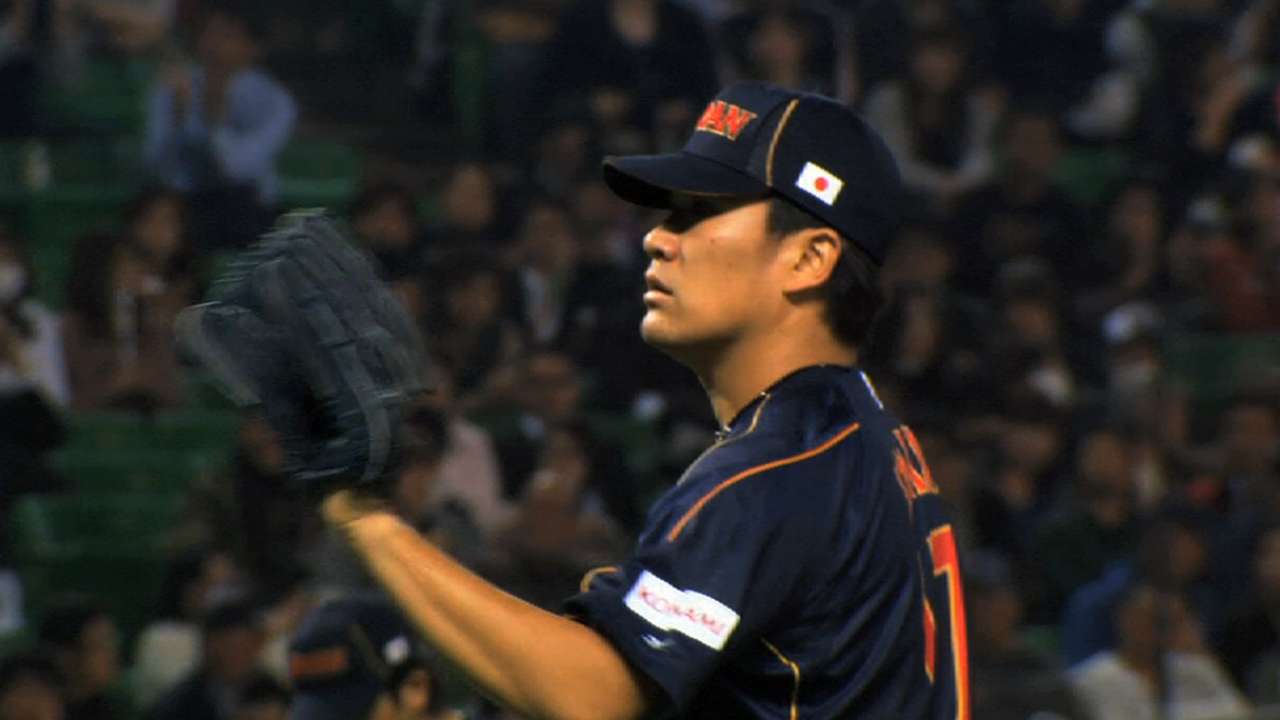 CHICAGO -- Rick Renteria is preparing himself in case Masahiro Tanaka picks the Cubs and said he ordered the Japanese version of the Rosetta Stone language learning tapes.
The Cubs manager said Thursday he was part of the team's contingent that met recently with Tanaka in California, joining president of baseball operations Theo Epstein and general manager Jed Hoyer.
"We've had conversations with Tanaka," Renteria said during a caravan stop at Casals School of Excellence in Chicago. "I'm not sure exactly where we're at in that process. I think Jed and Theo, if something were to happen with [Tanaka], I'm sure they'll let me know. Right now, I'm looking at the players we have and how we're going to move forward with them."
The Cubs, Yankees and Dodgers are among the teams believed to be involved with Tanaka, who has until Jan. 24 to make a decision on which Major League team he will pick.
Renteria called the Cubs' meeting with Tanaka "very good conversations," and added they had an interpreter.
"I actually ordered Rosetta Stone, the Japanese version," Renteria said.
The Cubs do have pitcher Kyuji Fujikawa on the roster, but is Renteria that confident the team will sign Tanaka that he's going to learn to speak Japanese?
"I'm going to be prepared if it does [happen]," Renteria said. "I'm going to try to learn a little Japanese. And if it happens, good for us, and if not, there are a lot of Japanese players who are quality players who could come through the organization at some point in time, and I hope I'm able to at least say 'Hello,' 'Good night,' and 'Can I do anything for you?'"
The Cubs are coming off a 96-loss season, and it appears the front office is targeting the 2015 season and beyond, not 2014. The Minor League system is loaded with highly-touted talent such as Javier Baez, Albert Almora, Kris Bryant, Jorge Soler and C.J. Edwards. Tanaka, 25, was 24-0 with a 1.27 ERA in 212 innings last season for the Rakuten Golden Eagles, who posted the right-hander for a $20 million fee. The bidding for Tanaka will end at 4 p.m. CT on Jan. 24.
"The points to [Tanaka] were that we're a club on the upside," Renteria said. "We're a club that has a lot of talent besides the guys who we have here presently, and that the organization has quality players coming up who will significantly impact the organization.
"The question is, in the end, what are we trying to do with these players?" Renteria said. "Do we want them to believe they're going to come in here just to be here? No. We want them to come here and know they have to perform, that they have to execute, that they have to play to win a ballgame. It takes a lot of different pieces for us as an organization to come together."
This weekend, Renteria will be introduced at the Cubs Convention. The new manager is very upbeat and optimistic about the 2014 season even though the Cubs have signed more free agents to Minor League contracts than big league contracts. The list of offseason acquisitions includes outfielder Justin Ruggiano, closer Jose Veras, backup catcher George Kottaras and reliever Wesley Wright.
"My optimism is [because] I'm an optimistic person," Renteria said. "The players who are here, I believe, are good players. I think maybe they've had collectively a bad season. Some guys had some good performances last year, but the reality is we need to have them all come together and play as a team. My message isn't going to change. I want these guys to start feeling like a family and I want them to start feeling like they're playing for each other and playing for this city."
The Cubs may be picked to finish last again in the National League Central, but don't tell Renteria.
"I think no one should enter into any season thinking they're going to be the one that everybody is going to stomp on," Renteria said. "I don't take that attitude, I'm not going to take that attitude, my players are not going to take that attitude.
"When we go out there, we're going out there to win a ballgame," he said. "That means executing, that means being prepared, that means actually going in there and believing they can win a ballgame. That's the result. We have to go in there and take care of nine innings of baseball, and play the game the way it's supposed to be played, and at the end of the day, we'll figure out who will be on top."
Having Tanaka in the Cubs rotation will help get them there.
Carrie Muskat is a reporter for MLB.com. She writes a blog, Muskat Ramblings, and you can follow her on Twitter @CarrieMuskat. This story was not subject to the approval of Major League Baseball or its clubs.