Vizcaino impresses in return attempt from Tommy John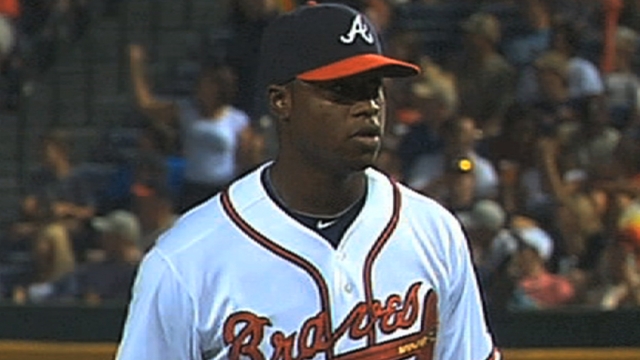 MESA, Ariz. -- When Arodys Vizcaino finished throwing his live batting practice session, one of the first people to shake his hand to congratulate him was Cubs president of baseball operations Theo Epstein.
The Cubs have waited a long time for Vizcaino, 23, to show what he did on Saturday. The right-hander, acquired from the Braves in the Paul Maholm trade in 2012, was rehabbing at that time from Tommy John surgery on his elbow. He had a setback last season, but on Saturday, he looked healthy.
"I would've never known [he was hurt] just from the way he looked today," said catcher Eli Whiteside, who caught Vizcaino. "He looked really good."
It's too early to say who will be the surprise of Spring Training, but Vizcaino may be the leader so far.
"He looked very, very good," Cubs manager Rick Renteria said of Vizcaino, who is projected to pitch out of the bullpen. "We're very pleased with his session. Very sharp, live fastball, breaking ball, he was burying his pitches when he needed to. He's progressing well. We're happy to say there are no setbacks and we hope it continues that way."
The right-hander does have some Major League experience, pitching in 17 games in relief for the Braves in 2011. That's the last time he appeared in a game, missing both '12 and '13.
"I thought his stuff looked really good today," Whiteside said. "Most of his stuff was down in the zone. He obviously had good velocity. The ball was coming out of his hand good. I think that's really what you're looking for now is how the ball's coming out of their hand. He had spin on his breaking ball, was able to locate down in the zone. It all looked good today."
Ryan Sweeney thought so, too. Sweeney had to face Vizcaino in the live batting practice session.
"I'd never seen him before and I didn't know he throws a changeup," Sweeney said. "He throws a hard changeup, too. There was a 10-mph difference from what his heater is, and that throws you off a little bit. His slider was good, too. It looked like he was throwing with good command, too, this early in camp."
The radar gun was hitting 97, 98 mph on Vizcaino's fastball. That's encouraging. His take?
"Everything felt good -- my elbow, shoulder, everything," Vizcaino said.
That's what the Cubs want to hear.
Carrie Muskat is a reporter for MLB.com. She writes a blog, Muskat Ramblings, and you can follow her on Twitter @CarrieMuskat. This story was not subject to the approval of Major League Baseball or its clubs.