Castro leaves game with mild hamstring strain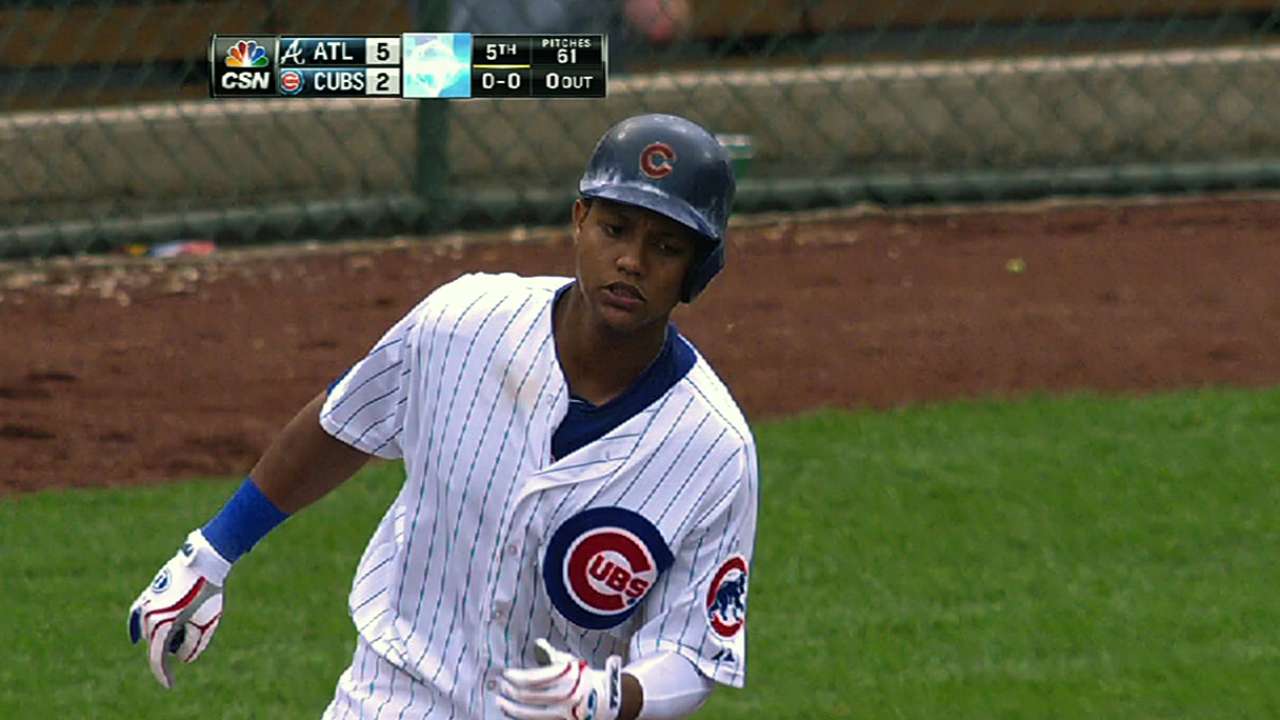 MESA, Ariz. -- Last spring, Starlin Castro missed two weeks because of a sore left hamstring and amped up his offseason workouts to report in better shape. But on Sunday, in his second spring at-bat, the Cubs shortstop had to leave the game because of a mild right hamstring strain.
Castro was hit by a pitch with one out in the first by the Royals' Wade Davis, and then was thrown out trying to steal second. He walked gingerly off the field and was lifted defensively.
"It's not too bad like last year," Castro said. "We don't want to take a chance. It's early right now. You take a couple days to get better."
Last year, Castro was sidelined from Feb. 27 to March 13.
"Last year, I couldn't walk and now I can walk normal," Castro said. "[Athletic trainer PJ Mainville] stretched it out and I feel better.
"I don't want to rush," he said. "I want to take time to get better. I think I'll be better."
Castro was in better shape this spring. The Cubs sent strength and conditioning coach Tim Buss to the Dominican Republic for three weeks, and Castro trained for another four weeks at a complex in Brandenton, Fla.
"A little bit [frustrating]," Castro said. "I feel so good when I work, I'm working hard every day. I feel 100 percent every day and this thing happens now."
Javier Baez took over at shortstop on Sunday, and went 2-for-3. Castro chatted with him as Baez was leaving the facility.
"He's not down," Baez said. "He's taking it easy. It's only Spring Training. He wants to take care of his body."
Castro, along with Emilio Bonifacio, is being considered by manager Rick Renteria to be the Cubs' leadoff hitter.
"Starlin has the ability to put the bat on the ball pretty much anywhere," Renteria said. "He handles the bat, he can manipulate the barrel quite well. He could fit in the [No. 2] slot quite easy. He's a guy who was a 200-hit a year guy, so that's a lot of hits. Having a guy who can get on base whether through a walk or hit is pretty good."
Carrie Muskat is a reporter for MLB.com. She writes a blog, Muskat Ramblings, and you can follow her on Twitter @CarrieMuskat. This story was not subject to the approval of Major League Baseball or its clubs.