Pitching always in the back of Wells' mind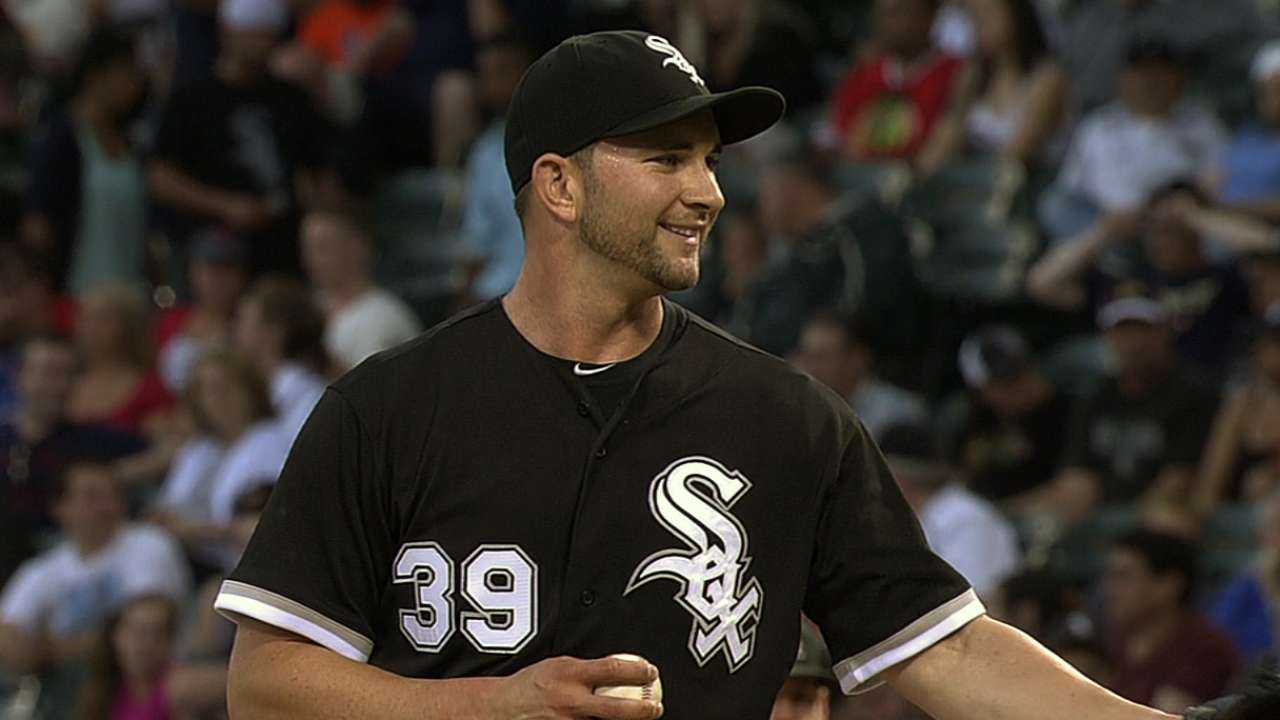 MESA, Ariz. -- If Casper Wells had his way, he'd be able to pitch and play the outfield in the big leagues.
"I'd love to do both," Wells said. "That'd be awesome. Babe Ruth did it."
Wells hasn't had quite the success as Ruth in terms of either pitching or hitting. A career .230 hitter after four seasons in the big leagues, he's now a non-roster invitee on the Cubs, hoping to find a spot on the bench.
Last year, Wells, 29, became the first position player to pitch in both leagues, doing so for the White Sox on June 28 and the Phillies on Aug. 24. It was the first time he pitched since his days at Towson University in 2005.
"In college, all I knew was to throw a lot of fastballs," Wells said. "I didn't like to walk people, so I threw a lot of strikes. Playing this game for a while, you have to learn how to not throw strikes and throw more offspeed to get hitters off balance. I always pride myself on my arm. I've always had a good arm. It's just a God-given ability. I take pride in my arm and take care of it."
It's not as if he's doing side sessions to stay in shape.
"I take care of it like sleeping on my left side when I go to bed and do some arm exercises and make sure I do long toss," Wells said.
How did the White Sox know to use him?
"It was a situation where I was a guy not playing every day, and not a big money guy on the team, so it seemed like it was fitting," he said. "They asked if I had any kind of pitching experience, and I said, 'Yeah, I was a pitcher until I got drafted.' Even then, when my hitting was so-so, I was like, 'Can I do both?' It was an adjustment to do one thing, just hitting. I was always at practice doing both things."
He was surprised at how normal it felt being on the mound again.
"I just went out there, and I can't say it's like riding a bike, but at the same time, you tap into something in your mind and that your body is used to doing," he said. "It puts you in a different feeling. I still miss that feeling of pitching."
Has Wells considered focusing solely on pitching?
"I have that on the back burner that I can pitch," he said. "Sometimes you get frustrated with hitting. But at this point, I've built myself into being a guy who it's more advantageous to hit. [Pitching] is always there, so who knows?"
Carrie Muskat is a reporter for MLB.com. She writes a blog, Muskat Ramblings, and you can follow her on Twitter @CarrieMuskat. This story was not subject to the approval of Major League Baseball or its clubs.