Wood not worried about Opening Day assignment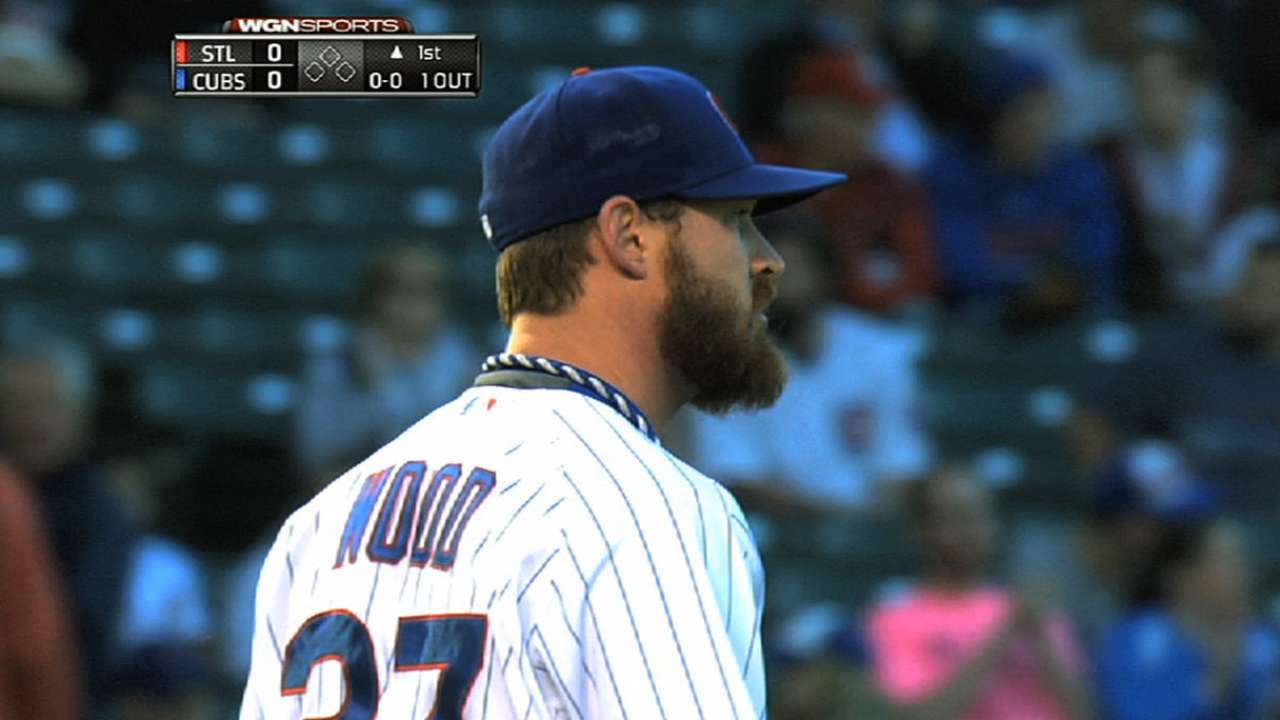 GOODYEAR, Ariz. -- Travis Wood and Jeff Samardzija have been the two constants in the Cubs' rotation the last two seasons, and the pair appear to be the front-runners for the Opening Day assignment. They're just going about their business as usual.
"I've got no control over it," Wood said Thursday after his first Cactus League start, a three-inning outing against the Indians. "[Manager Rick Renteria] is going to pick whoever he wants to pick, so I'm just going out there to get ready for the season. They'll tell me when I'm going to pitch."
After his start on Wednesday, Samardzija said he was preparing for Opening Day, but when pressed, said he hadn't gotten the March 31 assignment.
"I don't want to lock myself in and we still have to see how everybody is falling in and staying healthy," Renteria said Thursday.
Told that Samardzija said he was preparing for Opening Day, Renteria smiled.
"That's good," the manager said. "Wood said the same thing and Jake [Arrieta] said the same thing, and everybody else is saying the same thing. They're getting ready for Opening Day."
Wood retired the first four batters he faced Thursday, then gave up a double to Michael Brantley with one out in the second. That was the only hit off the lefty, who struck out the last two batters he faced in the third. It was such an efficient outing that Wood went to the bullpen and threw 25 more pitches.
"It was nice to get in a game situation," said Wood, whose first start was washed out because of rain and he ended up throwing two innings in the bullpen.
The last two years, the Cubs have traded starting pitchers as they add prospects to the system. Wood and Samardzija have stayed put and become very close in the process. Last season, each totaled 200 innings for the first time in their careers. Their lockers are close, they train together and they share a morning routine.
"The first year was getting to know everybody, and last year we built a good relationship, and we kind of went off that and hang out and play some golf and chat things over," Wood said.
Samardzija used to climb Camelback Mountain in Scottsdale with Ryan Dempster as part of their training routine. Has Samardzija convinced Wood to join him?
"No," Wood said. "I don't climb mountains."
Carrie Muskat is a reporter for MLB.com. She writes a blog, Muskat Ramblings, and you can follow her on Twitter @CarrieMuskat. This story was not subject to the approval of Major League Baseball or its clubs.