Samardzija focused on doing his job, not rumors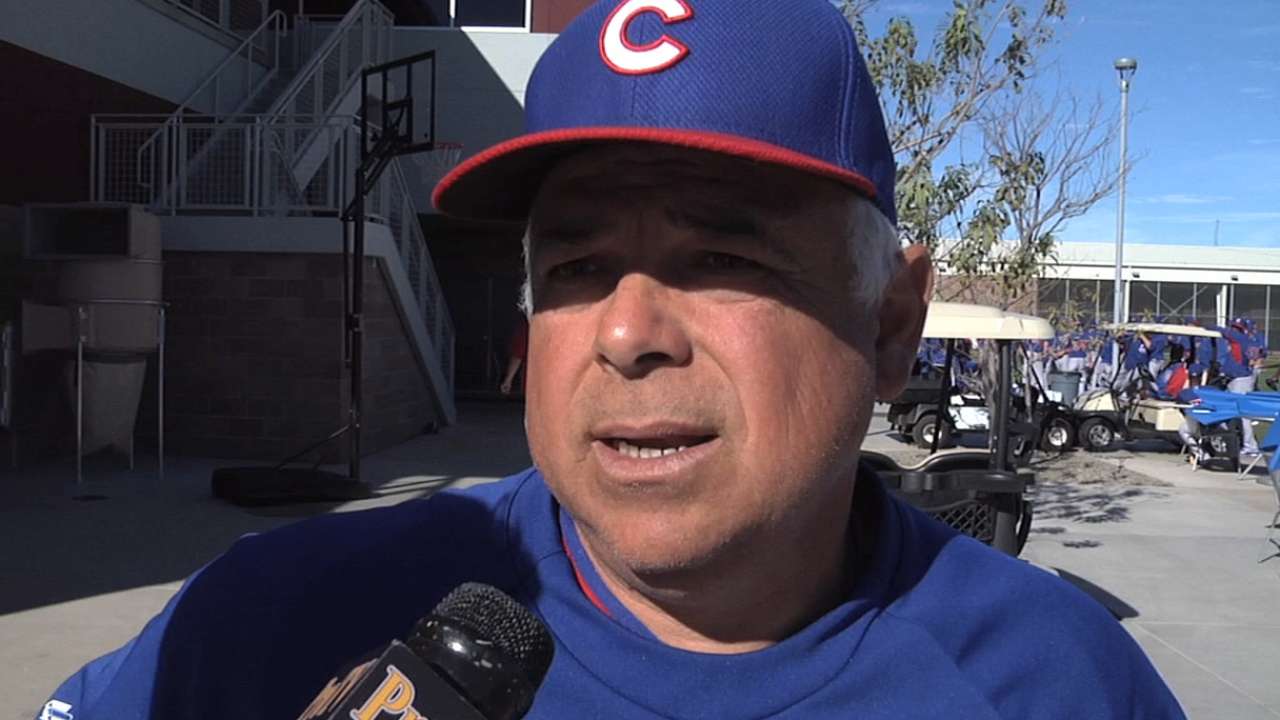 SCOTTSDALE, Ariz. -- Jeff Samardzija felt he controlled his tempo well, was able to mix his pitches the way he wanted, including his splitter, and took advantage of catcher Eli Whiteside's background with the Giants.
And no matter what he does, the Cubs right-hander's name keeps popping up in trade rumors. Samardzija shrugs them off.
"Just going with the flow, man," Samardzija said after throwing four solid innings Monday against the Giants. "I'm out here pitching, and I'm really excited with how I feel for this season and where I'm at right now.
"I keep getting stronger and I really like how I approached this offseason with spacing it out and not throwing until a little later," he said. "I feel like I'm peaking at the right time. I can't control [rumors]. I"m just going to come out and pitch and keep doing my job and whatever happens will happen."
There were plenty of scouts in the sellout crowd at Scottsdale Stadium. Samardzija's name has been mentioned quite a bit. He'll be a free agent after 2015, and a deal could produce a nice package of prospects for the Cubs.
He's heard the rumors.
"You'd be lying if you said things don't cross your mind like that," Samardzija said. "I'm human, and I have different thoughts throughout the day. Sometimes the uncertainty of the situation pops in my head, for sure. Ultimately, that's just an excuse. I want to go out there and pitch and do my job with no excuses.
"I'm not about to come in and say my mind's shaken because of this or that -- it's not going to happen," he said. "I'm going to go out and do my job. If I win, I win because I did that, and if I don't win, it's because I don't perform up to the task. That's how I look at it. I'm a very practical guy and it's black and white for me. Right now I'm wearing a Cubs uniform and that's how I'm approaching it."
How he approached the Giants was to rely on Whiteside, who played for the team from 2009-12.
"What a good guy to have back there," Samardzija said. "He's won two world championships with them and I think he knows the guys a little. I told him before the game, 'You go ahead and throw down whatever you feel like, and I'll take your word on it.'"
Samardzija scattered five hits, all singles, and did not walk a batter, striking out five. Best of all, he controlled his tempo.
"I really feel like I slowed down out there," he said. "I'm more under control. Me and Lester [Strode, bullpen coach] have talked about that of late. Don't worry so much about the velocity of the pitch but more about how you're throwing it and whether you're selling it to the hitter."
Samardzija was happy not to have to face Barry Bonds, who began a stint as a guest coach with the Giants on Monday.
"I gave up my first hit in the pros to him on this field," Samardzija said. "I opened against the Athletics, and my second game was here and Bonds hit a ball through the hole in the shift and hooked a sinker through. That's one of my earliest memories of being with the Cubs.
"I was happy as heck telling everybody he just got a single off me," Samardzija said.
For the record, Samardzija never faced Bonds in the regular season.
Carrie Muskat is a reporter for MLB.com. She writes a blog, Muskat Ramblings, and you can follow her on Twitter @CarrieMuskat. This story was not subject to the approval of Major League Baseball or its clubs.