Bryant excited for his Las Vegas homecoming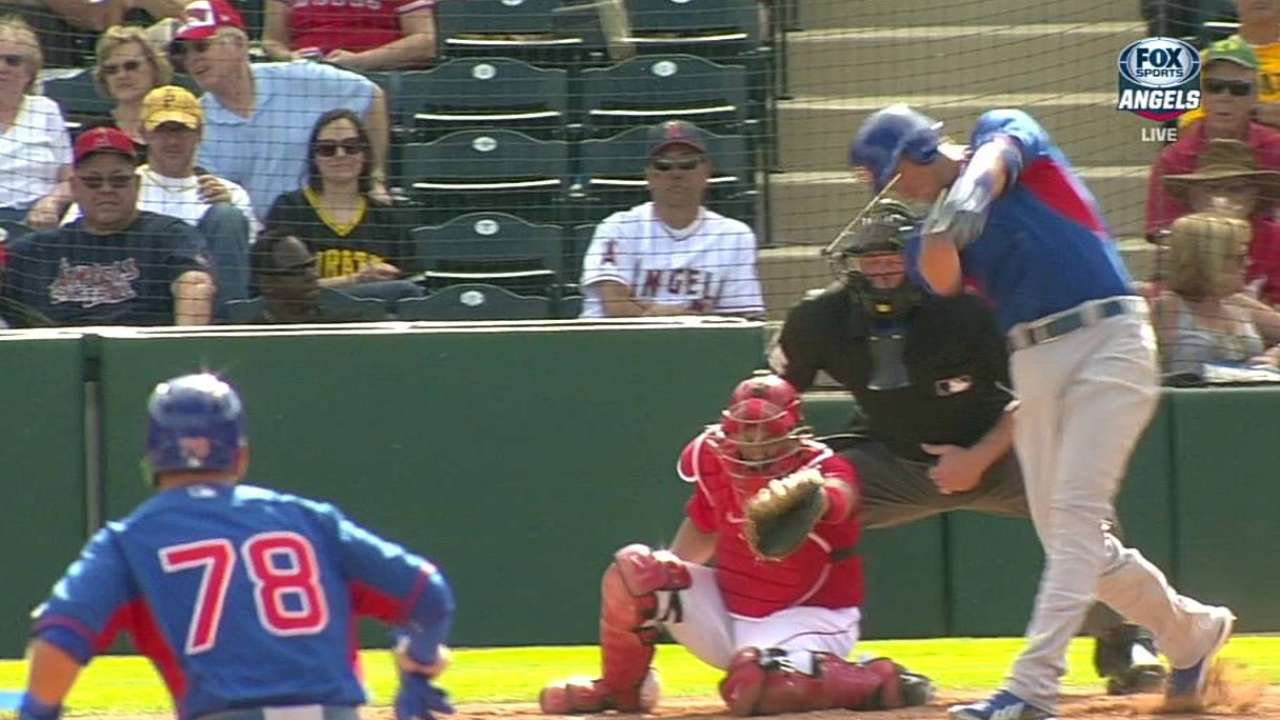 MESA, Ariz. -- It'll be homecoming weekend for Kris Bryant, who will be part of the Cubs' travel squad for exhibition games in Las Vegas. Just don't expect to see him in the casinos.
Bryant, 22, grew up 20 minutes from downtown Las Vegas, and he took advantage of the weather there more than the proximity to the Las Vegas strip.
"Whenever you're in Vegas, you're pretty close to everything," Bryant said. "I really enjoyed growing up there, because I got to play baseball year-round. I think being able to play that much made me the player I am today."
Bryant expected plenty of friends and family to be at Cashman Field for the Cubs' games against the Mets.
"I'm coming to them, so it's a lot more convenient for them," he said. "I think it'll be a fun weekend."
Bryant did play in Las Vegas last May 6, when his University of San Diego team faced UNLV. Bryant went 4-for-7 with four RBIs, hitting two home runs.
On Wednesday, Bryant was among nine players the Cubs reassigned to Minor League camp. The third baseman, who was the second player selected overall in last year's First-Year Player Draft, was 2-for-11 in eight games, and both of his hits were home runs. He also struck out seven times.
How hard was it to face big leaguers?
"It's just baseball," Bryant said. "You go out there every day. You're playing the same game you've played. This is my 17th year playing baseball. I've been through it all, the ups and downs. This game is my passion, and I love every minute of it."
Bryant started playing at 5 years old, when his father, Mike, built a 50-foot batting cage in the backyard. Kris was hitting home runs three years later.
When Bryant was younger, he would go to Minor League games in Las Vegas to see the 51s play.
"I was amazed at how good they were," Bryant said. "Now I get a chance to play there, and hopefully there are kids who go to the game who feel the same way about us."
It wasn't any one player who made an impact on Bryant.
"It's just the fact that you're seeing a professional baseball player, and everyone there seems larger than life," he said. "It's cool to see someone there who has made it into professional baseball. It was a dream for me to play there, and I get to live out that dream now."
Will Bryant take advantage of the trip home to be in his own house?
"I think it'd be cool to actually stay at a hotel there," Bryant said. "It's something I haven't really had the chance to do. I'm just happy my family will be there to watch me and have fun."
Bryant is not a gambler, but he did see a few shows on the strip.
"You definitely stay away from the craziness," he said.
Carrie Muskat is a reporter for MLB.com. She writes a blog, Muskat Ramblings, and you can follow her on Twitter @CarrieMuskat. This story was not subject to the approval of Major League Baseball or its clubs.