Better vision key to Olt's improved hitting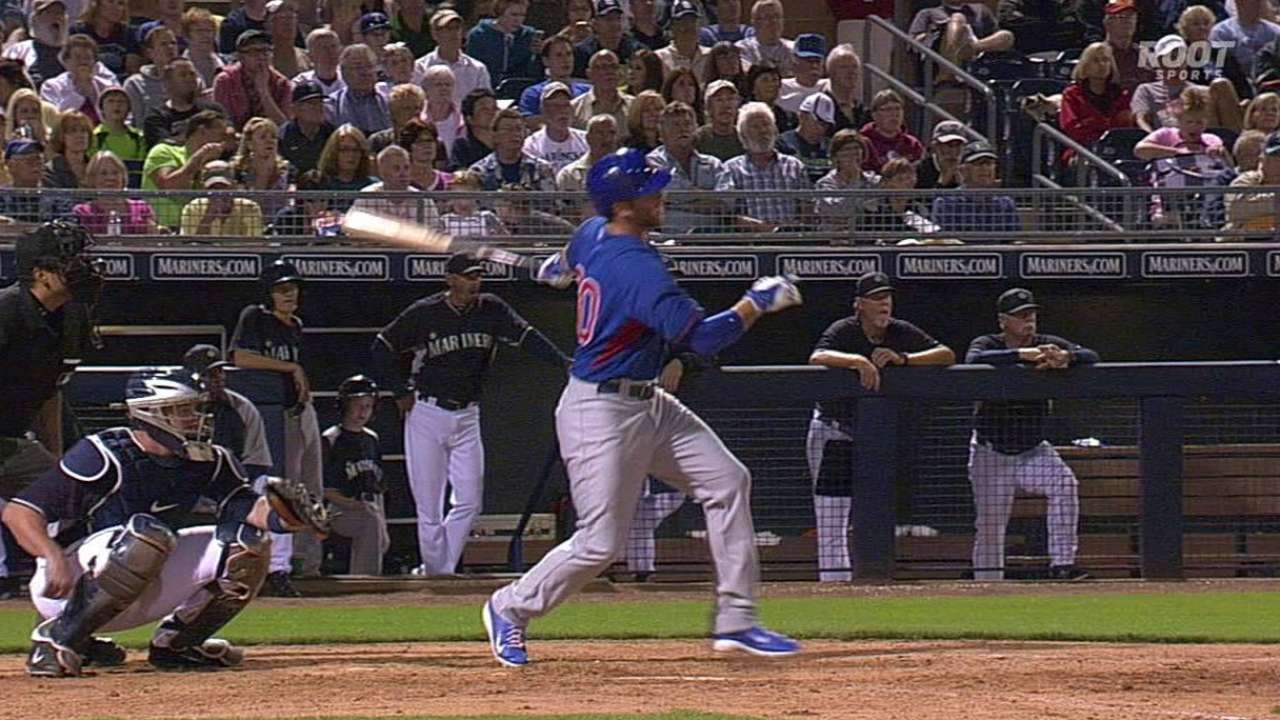 MESA, Ariz. -- Mike Olt recalls a spring game or two last year when he had a lot of success, similar to Wednesday night, when he hit two home runs and added an RBI single.
"Last year, I had a couple nights like this, but I felt like I almost got lucky," Olt said. "This year is definitely a whole different feeling. I'm feeling way more comfortable at the plate, seeing the ball really well. It helps me go forward and know that I'm definitely in the clear and looking forward to what's to come."
Olt was in the Rangers' camp last spring, and he is now with the Cubs, who acquired the third baseman in July in the Matt Garza deal. He appeared in 19 games with Texas in 2013 and batted .194 while battling vision problems which started after he suffered a concussion. Olt is seeing the ball just fine this spring.
"Last year, answering the questions [about my vision] every day was tough, because we didn't know -- I didn't know -- what to expect," Olt said. "It's a little easier to answer everything now and know that hopefully soon it won't be [asked about]."
Olt was more encouraged by the improvements he's made with his swing after some extra work in batting practice, and he feels his timing is better.
"I almost felt like I just put the bat on the ball somehow [last year]," he said. "I wasn't seeing pitches that I'm used to hitting. I think this year is a lot better. I'm going with my approach and being able to execute it now."
That's good news for the Cubs, who could use more pop in the lineup. Chicago's third-base options include Luis Valbuena and Donnie Murphy. Olt has played first or been the designated hitter this spring to give his right shoulder time to get stronger. He spent this offseason rehabbing the sore shoulder, and the Cubs have been cautious about where he plays to keep the stress level down.
When will he play third?
"Soon," Olt said. "I know it's going to be soon. I said before, the biggest thing is I don't want to have a setback. They really wanted to take it slow."
Carrie Muskat is a reporter for MLB.com. She writes a blog, Muskat Ramblings, and you can follow her on Twitter @CarrieMuskat. This story was not subject to the approval of Major League Baseball or its clubs.