Kalish enjoys being part of first Cubs review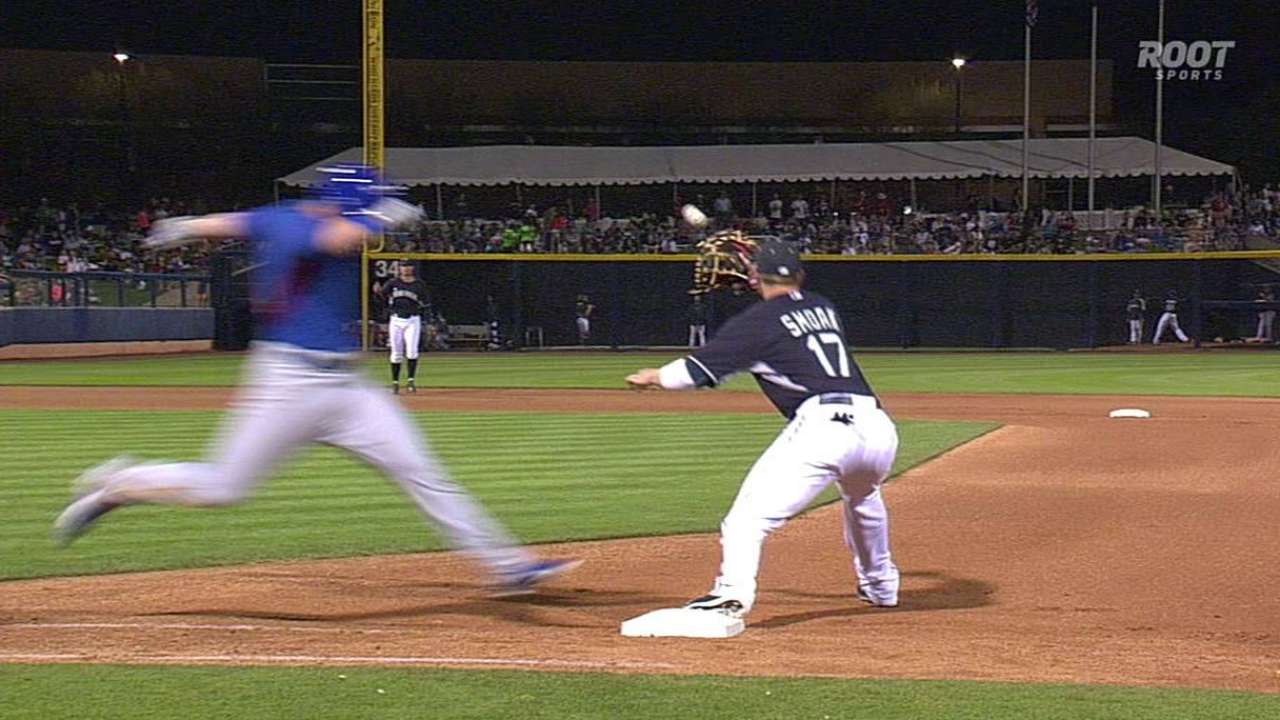 MESA, Ariz. -- Ryan Kalish is a fan of instant replay in the National Football League, and on Wednesday, his close play at first base was the first Cubs play to be reviewed in Major League Baseball's new system.
There was one out in the fourth inning Wednesday and the Cubs and Mariners were tied at 2 when Kalish chopped the ball to shortstop Brad Miller, who threw to first. Kalish was called out on the close play. Kalish didn't say anything to Cubs manager Rick Renteria, who went to first-base umpire Dan Bellino and challenged the call.
Bellino and umpire Hal Gibson conferred on headsets with an official in the truck at the ballpark, who reviewed the play. The umpires have three choices: They can confirm the call, reverse it, or decide there is inconclusive evidence and the call is upheld. On Wednesday, the call was upheld.
"I felt it was a lot closer -- I thought I was safe," Kalish said. "I talked to the umpires and they talked about all the angles they'll have during the season that they don't have in Spring Training. Come the season, they'll have a lot more angles.
"It was just fun to have my play reviewed. I watched the NFL for so many years, did I ever think I'd be getting my play reviewed in baseball? No. It was just a fun experience. For me, I'm just out there having fun. It was cool."
Renteria was sitting outside of the dugout on the first-base side when the play happened.
"My eyes told me that [Kalish] had beat [the throw]," Renteria said. "It's a 2-2 tie, and the fourth inning. I'm just thinking, 'We've got a chance to get a guy on.' My eyes tell me, 'I think he beat it.' There are times when I'm sitting there and look at a play and if I doubt it, the [umpire] probably got it right. In this case, it was pretty close. It was worth the chance."
Kalish did say something to Bellino, but didn't know Renteria decided to challenge the call.
"This is all new for everyone," Kalish said.
Did Kalish check the replay?
"It was close, that's all I'll say," he said.
What will be different during the season is that the umpires will have more views of the play. On Wednesday, it appeared that there were three angles to watch.
"I think there was inconclusive evidence from what I was told," Kalish said. "I went and talked to the umpire after that inning. He said, 'We'd rather get it right, but obviously, right now, we don't have that many angles.'"
The Cubs are still trying to determine how they'll watch the plays, and whether they'll have someone send a message to Renteria if a call needs to be reviewed.
"It's a work in progress," Renteria said.
Wednesday was the third Cubs game in which instant replay was available. The next games when it will be tested will be March 16 against the Indians, when Renteria will be in Las Vegas, and March 19 against the Rockies.
Carrie Muskat is a reporter for MLB.com. She writes a blog, Muskat Ramblings, and you can follow her on Twitter @CarrieMuskat. This story was not subject to the approval of Major League Baseball or its clubs.