Trip to Vegas gives Bryant chance to go home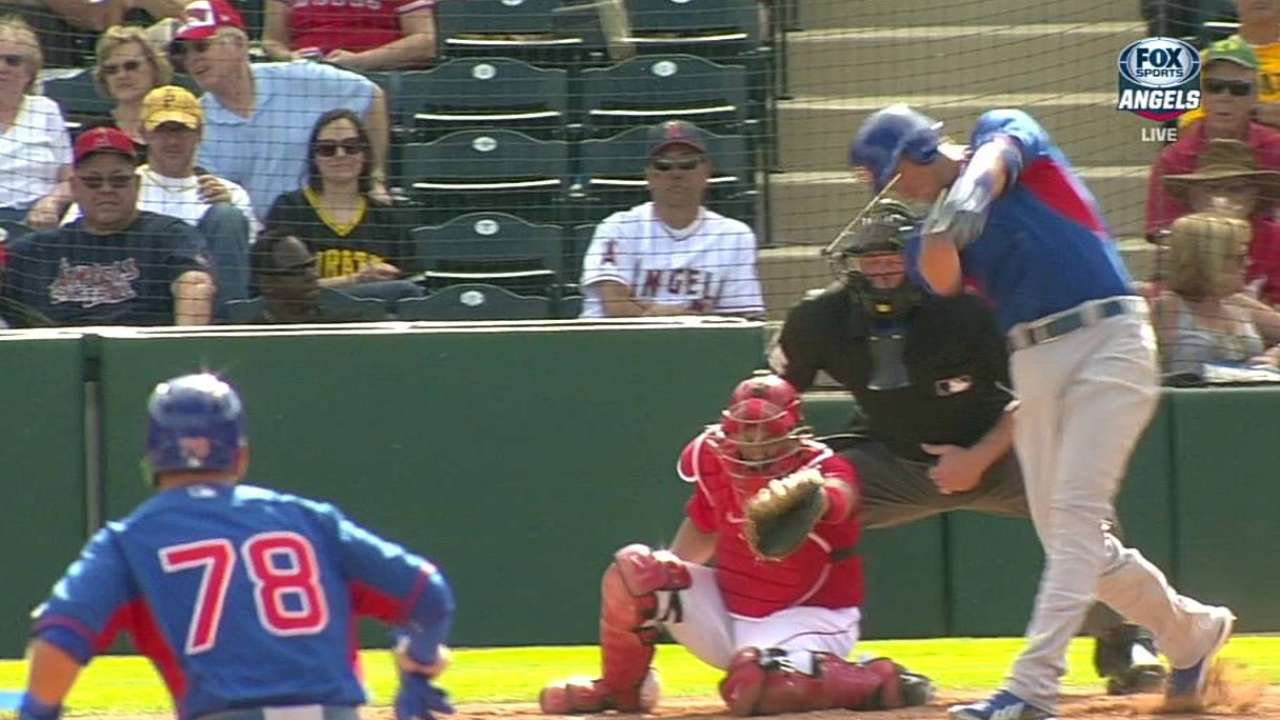 LAS VEGAS -- Kris Bryant was a tourist in his hometown Friday night.
Bryant is on the Cubs' roster for games against the Mets at Cashman Field, and he took advantage of the Cubs staying at a luxury hotel.
"I was a tourist for one night, I guess," he said.
Bryant remembers coming to the games as a kid, and watching the kids, including Josh Vitters, who was the Cubs' first-round pick in 2007 and his teammate in big league camp.
"I remember I came here my junior year in high school after Josh Vitters got drafted, and I remember seeing him," Bryant said. "I got to meet him in big league camp. It was pretty cool."
Bryant, though, was assigned to Minor League camp last week, although he's only played one game there.
"I definitely need to get some at-bats and get going for the season and get comfortable out there," he said. "It definitely wasn't a surprise to me [to be sent to the Minors]. I'm really thankful for the opportunity to be invited to big league camp. Not many people can say that."
Bryant entered Saturday's game defensively in the eighth at third, and did not get an at-bat. The second overall pick in last June's First-Year Player Draft, he has impressed Cubs manager Rick Renteria.
"He's a very poised young man who's shown some tremendous power to the opposite side," Renteria said. "He's been working real well defensively at third base, moving his feet better, staying under the ball. He's a very tall young man, so getting under the ball is important for him. He's a very confident young man."
A Las Vegas reporter asked Renteria if he needed to keep Bryant grounded.
"He's pretty grounded," Renteria said. "I don't think I have to do a whole lot."
The Cubs have yet to announce where Bryant will open the season. He isn't too worried.
"I don't think it matters where you start, just as long as you focus -- you're not playing against the team, you're playing against the ball," Bryant said. "As long as you're focusing on getting better and not letting outside distractions affect you, I think things usually turn out well."
One of those distractions could be when Bryant's service time starts. He's not thinking about that.
"It's just a big distraction to me," Bryant said. "If I was focused on the certain dates of the whole business side of things, I think I'd lose a little focus on the field. That's not what I want -- I want to be the best I can on the field and let everyone else take care of the other stuff."
He's talked to his agent a little about the topic.
"I got a little understanding of it, but I want to be a little naive, too," he said. "If I keep thinking about it, it'll be a little distracting. Talking to the guys up here who have been through that, it'll definitely help me learn what kind of things to avoid. Hopefully, when I get the call, things will go smoothly from there."
He got tickets for 10 friends for Saturday's game. His father, Mike, expected about 200 friends and family at Cashman Field. Bryant may be the hometown boy, but he had to share a locker with Tony Zych.
"I have to work my way up," Bryant said. "I haven't earned anything yet. I'm totally fine with that."
Carrie Muskat is a reporter for MLB.com. She writes a blog, Muskat Ramblings, and you can follow her on Twitter @CarrieMuskat. AJ Cassavell is a reporter for MLB.com. Follow him on Twitter @ajcassavell. This story was not subject to the approval of Major League Baseball or its clubs.