Baez bounces back quickly from collision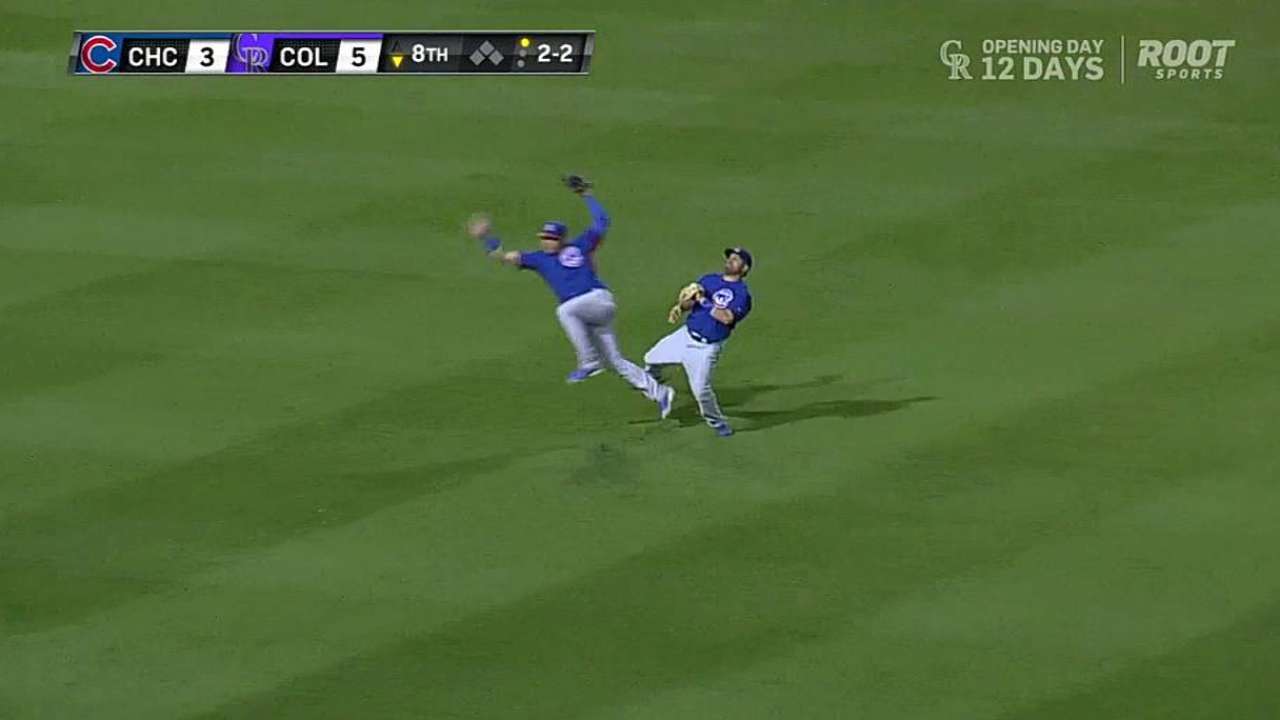 MESA, Ariz. -- Javier Baez survived a collision in left field with Anthony Giansanti, who also survived, knowing he wouldn't be very popular at Wrigley Field if he hurt the Cubs' top prospect.
Baez and Giansanti crashed in shallow left chasing a fly ball in the Cubs' game against the Rockies on Wednesday night. Baez said they couldn't hear each other calling for the ball. Baez lay on the ground for a few moments, feeling the impact in his left wrist and right knee, and couldn't bend his wrist.
"At first, I couldn't take my glove off for some reason," Baez said.
Cubs fans can breathe a sigh of relief. Baez got up, and stayed in the game. So did Giansanti.
"He told me, 'If you get hurt, everybody will hate me in Chicago,'" Baez said.
Cubs manager Rick Renteria had a long conversation with Baez, nearly walking all the way from left to shortstop after the collision.
"He was just telling me if I wanted to throw a little bit and catch the ball because of my wrist, but I told him I was fine, and he said, 'I just want to make sure,'" Baez said. "I don't like coming out of games, no matter what happens on the field. I don't like coming out of games."
Renteria did get a little twinge in his stomach when he saw the shortstop lying on the ground.
"When any of the players go down, something grabs you a little," Renteria said. "As a player, sometimes the initial shock of any action takes you down, so then you're regrouping as you're laying there. A lot of it is [checking that] 'I'm OK.'"
Baez had no problems in the eighth inning when he hit his fifth spring home run, which put him in a tie for the Cactus League lead. The ball landed next to a cactus plant in the batter's eye at Salt River Fields, and was estimated at 450 feet.
"My first year I played in the [Arizona] Fall League, I hit a ball that far, too," Baez said.
He did confess that it was "the best ball I hit in Spring Training." What does that feel like?
"It feels good -- you don't feel the ball hit the bat," he said. "That's when you know you hit it good."
A lot of his friends saw the blast, and sent him text messages. Baez knows Cubs fans are eager to see him in the big leagues on Opening Day, however, the front office has been adamant that he will start at shortstop for Triple-A Iowa. The media asks him about his future. So do his family and friends.
"They asked me pretty much every day, and I don't know what to answer," Baez said. "I know I will figure it out and let them know as soon as I know."
Renteria has preached patience with the club's prospects all spring.
"I think he's doing extremely well, and I think he's showing some adjustments, but I think that, as we've mentioned before, we're looking to make sure that the person that we take, whomever it is, is not coming back [to the Minors]," Renteria said. "You just keep perspective and understand where he's at in his development. You still see and understand there are things he has to still work on, and you keep that in mind and let things take care of themselves."
Cubs pitcher Jeff Samardzija likes what he's seen so far of the 21-year-old infielder.
"He's a heck of a player and that's what you need," Samardzija said. "We don't just need one Baez, we need six, seven more of him. As long as he keeps doing his thing, we expect big things out of him."
Carrie Muskat is a reporter for MLB.com. She writes a blog, Muskat Ramblings, and you can follow her on Twitter @CarrieMuskat. This story was not subject to the approval of Major League Baseball or its clubs.