Baez lauded for progress, takes roster move in stride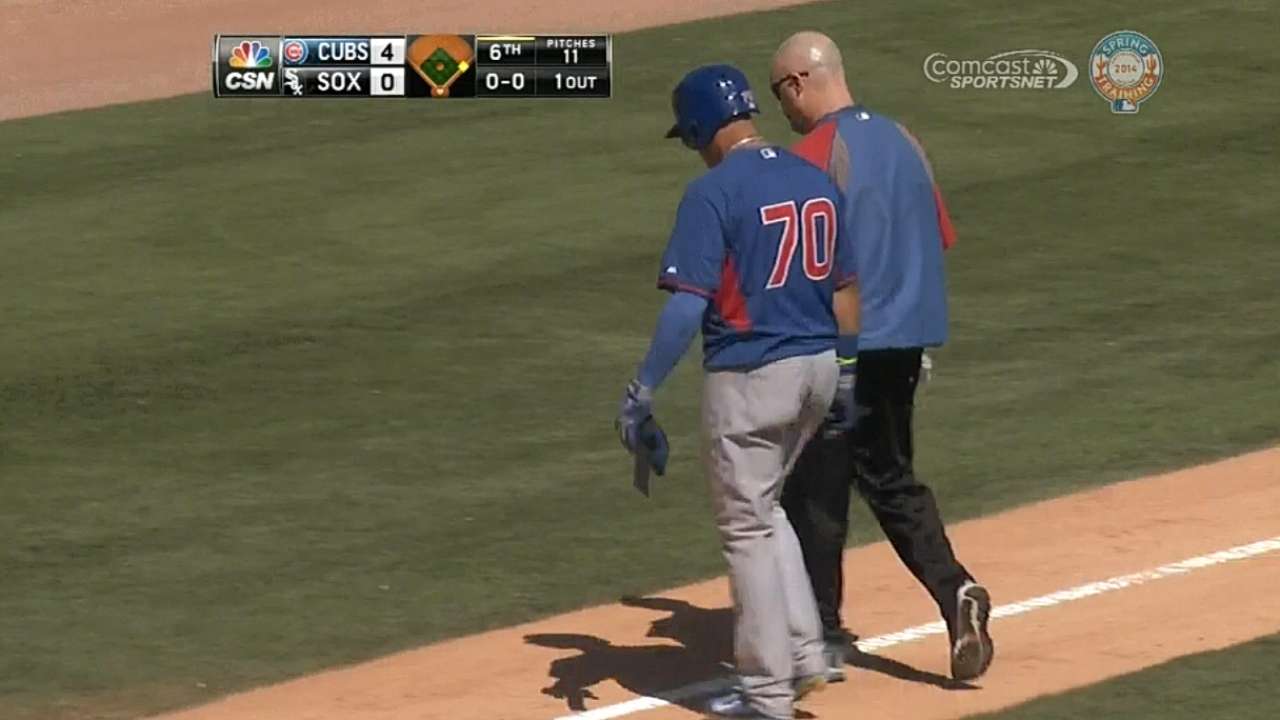 MESA, Ariz. -- Javier Baez reported on Saturday feeling much better after having to come out of Friday's game with a sore right heel, injured because of some bad cleats and a misstep at first. Then, the Cubs' top prospect got the news that he was being assigned to the Minor Leagues.
Baez was one of seven players trimmed from the Cubs' big league spring camp on Saturday. Manager Rick Renteria said he was impressed by the shortstop, who ranked among the Cactus League leaders in home runs with five, and was batting .310 in 14 games. Baez led the Cubs in at-bats with 42 heading into Saturday's game.
"I think he's made a lot of progress," Renteria said. "One of the things we talked about is to make sure he continues to work on his defense, continue to go down there and put together some good at-bats, try to get on base a little more through the process and just go out there and be a professional.
"He's been hustling and busting his rear end out here this spring and he's looked good."
Baez said he wasn't disappointed.
"Not really," he said. "There are a lot of people here, veteran guys, so I understand.
"I'm just going to go over there and play the game like I've been doing, play hard every day."
The good news is Baez wasn't hurt after Friday's freak step. With one out in the sixth and the Cubs leading 4-0 against the White Sox, Baez hit a grounder to shortstop Alexei Ramirez. Baez beat the throw but stepped awkwardly on first base and appeared to slip with his right foot.
"It's happened before," Baez said. "I can't wear [metal] cleats. I reached for the bag and I felt it a little bit on my heel. I could've kept playing but it was my last at-bat anyways so they took me out of the game."
He has no problem with rubber cleats but was wearing the metal ones because of the wet surface in Glendale.
"If I wear cleats, I just have to cut the back cleat and I'll be all right," Baez said. "When I hit the ground hard with all my weight, it hurts."
He said his shoe "pinched" his heel but the pain was gone quickly. He sustained a right heel contusion.
"It bothered me for a couple minutes and it was gone," he said. "It's happened before."
Renteria said the 21-year-old infielder took the news of his assignment to the Minors well.
"He took everything I mentioned to heart and will try to continue to improve and try to become the best player he can possibly be and get ready," Renteria said.
The Cubs want Baez to work on his defense, and he knows it.
"I talked to them about that, and I just have to try to make my throws to first base from short," Baez said. "A lot of times, my hand is sweating, and I'm like kind of scared to throw over. This year, I've been doing pretty good."
Part of being more comfortable includes knowing the runner, knowing how hard the ball is hit. There's not much he can do about sweaty hands.
"Sometimes I'd be in the field, and my hand would be sweating and maybe I'm not thinking about what I have to do with the ball if it's hit to me, or something like that," he said. "Sometimes I get a little bit nervous. It's all part of the game."
It's all part of the process.
Carrie Muskat is a reporter for MLB.com. She writes a blog, Muskat Ramblings, and you can follow her on Twitter @CarrieMuskat. This story was not subject to the approval of Major League Baseball or its clubs.