MLB.com sits down with Kasper, Gillispie
Broadcasters see power potential from youth and experience on hill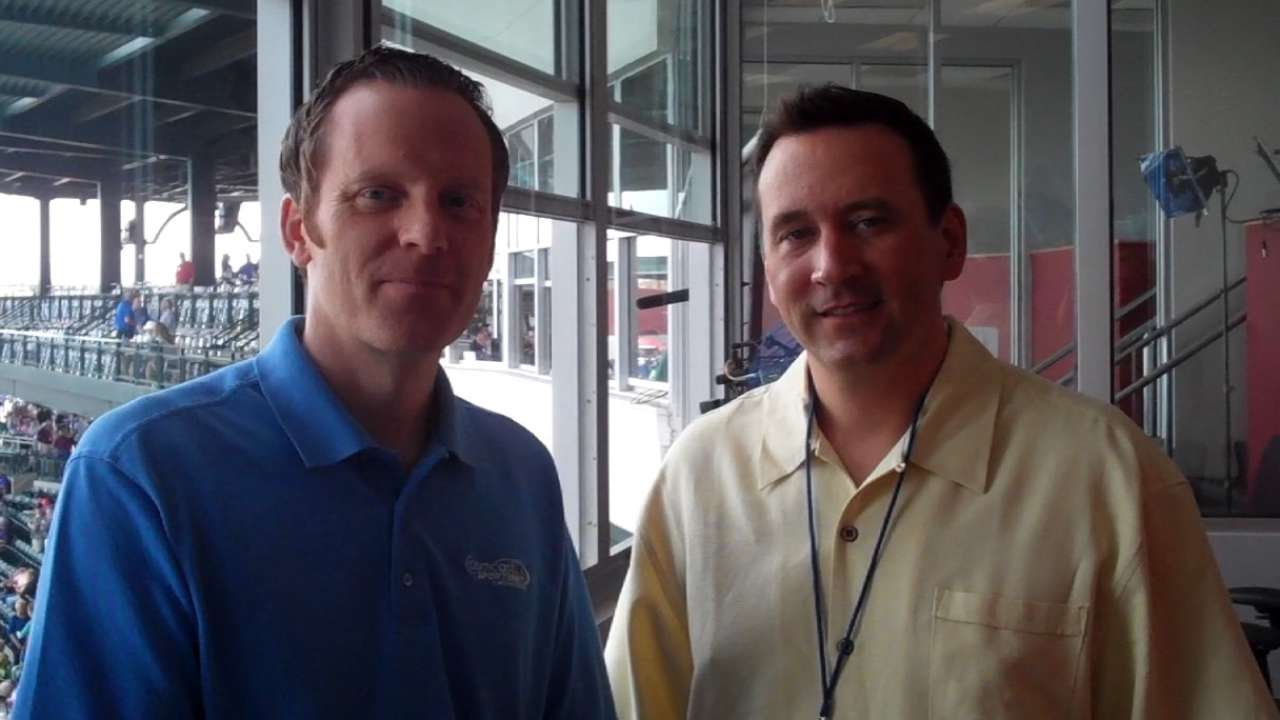 Len Kasper is the Cubs' television play-by-play broadcaster, while Mick Gillispie handles the radio broadcasts for the Double-A Tennessee Smokies. Kasper and Gillispie combine in Spring Training to deliver webcasts on Cubs.com, and they have watched nearly every one of the team's Cactus League games this spring. Here, they talk with Cubs.com's Carrie Muskat about the coming 2014 season.
MLB.com: What are some of the strengths of the team?
Kasper: I think the new coaching staff has brought an interesting energy here. Obviously, the Cubs will continue to do the things that [former manager] Dale Sveum and his staff did in terms of defensive shifting, but I think fundamentally this team will be good this season.
Gillispie: I like the energy, too. There's a lot of positivity when you walk into the clubhouse. It's been a lot of fun to watch some of the young guys play. They might not make the team, but when you watch Javier Baez and Albert Almora, those two, to me, have had great camps.
Kasper: Absolutely.
MLB.com: Talk about the buzz over Baez. Every time the guy hits a home run, you can sense in the ballpark the excitement.
Kasper: It seems to me that every time Baez is in a ballgame, he's noticeable. I would say 95 percent of the time it's positive. He had one little miscue at second base, but that's a position he probably is going to have to learn as time goes on. The Cubs will keep him at shortstop for the most part at Triple-A. If he needs to move defensively, they'll find a spot for him. His bat can play in the big leagues right now.
Gillispie: I think he'll make mistakes wherever he plays defensively. He makes up for them with the fact that not only does he hit home runs, but they come in big spots and it changes games. The power he has to all fields -- he's electric, and he's different than any other Minor League player the Cubs have. It's not just fastball power: He can hit any pitch out of the park. Is he going to swing at strikes and be disciplined, or is he going to swing at pitches out of the zone and strike out?
Kasper: I also think his bat speed is so off the charts that he can get fooled on pitches and still make good contact. Even when he hits a pop up, it reminds me of Mark McGwire. The ball is up in the air forever. When he hits home runs, they're not 365-footers; they're usually 410, 450. We saw him hit one over 450 against the Rockies this spring, and it's one of the longest home runs I've ever seen.
MLB.com: Are there a couple of players on the current team, the 2014 team, that fans should keep an eye on?
Kasper: I think Emilio Bonifacio, who was signed really late, in February, is a really intriguing guy. The Cubs have not had a lot of switch-hitters on their roster over the years, they haven't had a lot of speed and they haven't had a guy who can play as many positions can as Emilio can.
Gillispie: I like him in the leadoff spot, too. He had a slug-bunt single during camp; he hits it in the gaps and turns a double into a triple. Not only his versatility, but the fact that at the top of the lineup, they need a great leadoff guy.
Kasper: There's another guy, too, who could have a bust-out year, and that's Welington Castillo. I thought in the second half in 2013 he had a much more patient approach at the plate. I think maybe some of his offensive struggles early in 2013 may have been affected by all the stuff he has to know as a catcher. I think the pitchers now trust him, and I think he may be the most underrated player on the roster.
MLB.com: How about the pitching, with Jeff Samardzija on top. Do you like what you see from the starters?
Gillispie: I think Jeff Samardzija on the Yankees could win 20 games. You talk about this team, he's got to go out there and just throw strikes and try to keep the ball down. The start he made at Scottsdale Stadium, his stuff was as good as any pitcher I've seen. The fastball was always in the mid 90s, and the other pitches he was throwing that day had so much movement on them.
Kasper: I like the top two guys. You have a righty in Samardzija, a lefty in Travis Wood. Both guys will battle you. Travis never lets anything bother him, an All-Star last year. I think a lot of people are waiting to see how Year 2 will go for him after the All-Star appearance, but I think he's poised to have another good year.
MLB.com: One of the things I like about the team is that the closer situation is set. What have you seen from [Jose] Veras so far?
Kasper: Veras is a guy, you walk into the Cubs' clubhouse and all the pitchers seem to gather around his locker. He's 33 years old, came up as a Yankee, has been around the game for a long time and is really good for the young guys. The other thing I like is they have options. It's very rare to go through the course of an entire 162-game schedule and have one closer not have any sort of problems, either just needing a day off or struggling, and Pedro Strop gives them a nice backup option.
Gillispie: I think Alberto Cabrera has had a good spring, too. He's a guy from Minor League camp who has been on the 40-man roster. He's gotten to the big leagues a few times. But if he's one of those guys who could come up and throw strikes, that helps out, too.
Carrie Muskat is a reporter for MLB.com. She writes a blog, Muskat Ramblings, and you can follow her on Twitter @CarrieMuskat. This story was not subject to the approval of Major League Baseball or its clubs.