Olt could land roster spot with strong showing at third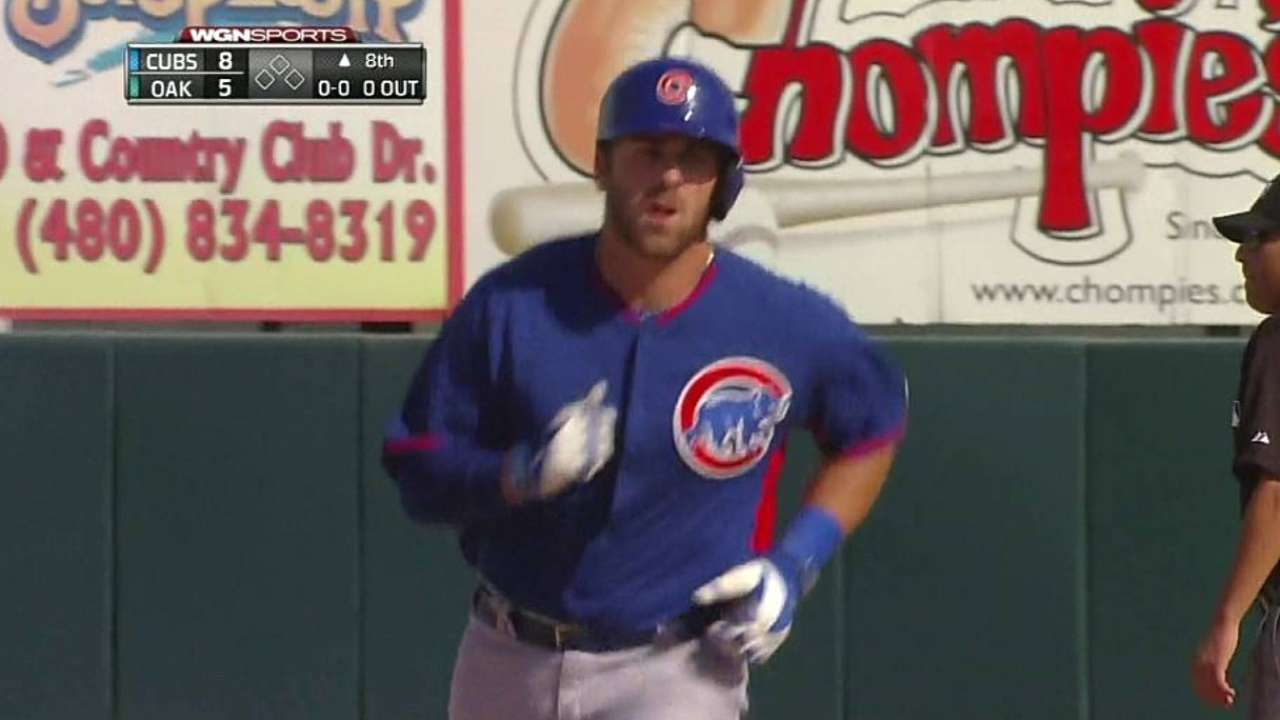 MESA, Ariz. -- If Mike Olt can show he can handle third base, he could be on the Cubs' Opening Day roster.
The Cubs have eight infielders still in camp, including Olt, Darwin Barney, Starlin Castro, Donnie Murphy, Anthony Rizzo, Luis Valbuena, Ryan Roberts and Emilio Bonifacio. Olt, Murphy and Valbuena are the options at third.
Tuesday was Olt's fourth game in the field. He had been limited to playing first base and designated hitter early in Cactus League games because of a tender right shoulder. On Sunday, Olt made two errors in one inning at third.
"He just has to keep working out there and shaking that [rust] and he'll be fine," Cubs manager Rick Renteria said Tuesday.
The shoulder appears to be fine.
"It's like anything -- if he's had some issues in the past, it's something you're aware of and can manage it," Renteria said.
The bigger question regarding Olt has been whether he's fully recovered from vision problems that slowed him last season. He batted .213 in 65 games at Triple-A Round Rock, and the Rangers were willing to include him in the package of players for Matt Garza last July.
His eyesight appears to be fine.
"He's really seeing the ball well," Renteria said. "He's obviously putting a charge into the baseball. He's looked like the guy from the offensive side that everybody expected to see a few years ago."
Renteria wasn't ready to commit to the final 25-man roster yet. The Cubs will likely use several lineups over the regular season. Asked if Darwin Barney was the starting second baseman, Renteria didn't say yes, but didn't say no.
"I think as we go into the season, we have certain guys who are going to be put in a particular position, and on the second day, you might see a different lineup," Renteria said. "The reality is the matchups we have and that we're looking at throughout the course of the season will determine how we use all our guys.
"I'm fortunate enough to have the flexibility of guys and matchups for different scenarios that can occur over the course of the season," he said. "I want to put them in the best position to have success."
Carrie Muskat is a reporter for MLB.com. She writes a blog, Muskat Ramblings, and you can follow her on Twitter @CarrieMuskat. This story was not subject to the approval of Major League Baseball or its clubs.