With Wednesday moves, roster down to 32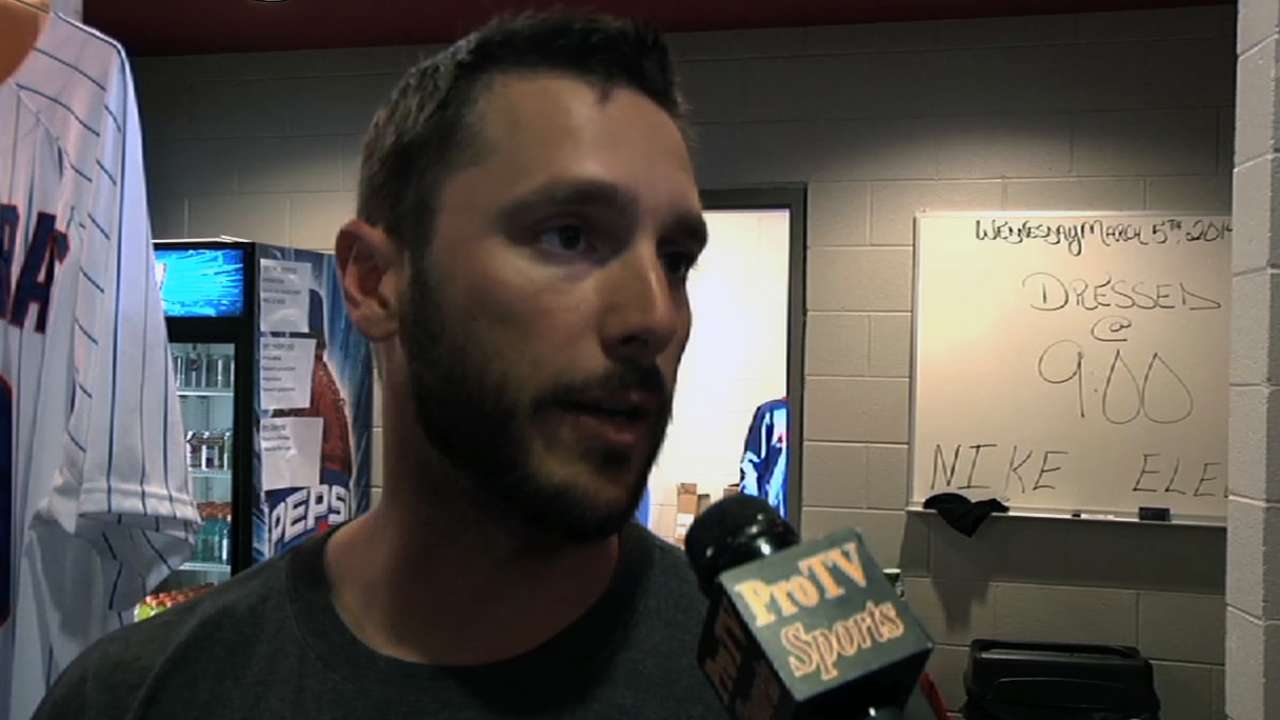 MESA, Ariz. -- The Cubs lost an infielder, named their backup catcher and may have taken another step in putting Mike Olt on the Opening Day roster.
On Wednesday, manager Rick Renteria named John Baker as the backup to Welington Castillo, with Eli Whiteside headed to Triple-A Iowa. The Rangers also claimed infielder Donnie Murphy off waivers from the Cubs, and catcher George Kottaras was placed on unconditional release waivers.
With the moves, the Cubs are down to 32 players in camp, with three pitchers -- Jake Arrieta, Kyuji Fujikawa and James McDonald -- expected to open on the disabled list. That number also includes Whiteside.
With Murphy going to the Rangers, that would appear to open a spot on the roster for Olt, who has been battling for the third-base job. It's down to Luis Valbuena and Olt, and Renteria would not commit to his Opening Day starter.
"We're going to continue to play out with what we have with the guys we have in camp now, seeing them and hopefully being able to come to a conclusion here, hopefully in the near future," Renteria said.
Olt appears to have overcome vision problems that bothered him last season, and he entered Wednesday's game batting .277 in 16 games with five home runs. Valbuena, who was the regular third baseman for the Cubs last season, was hitting .263 with six home runs. The Cubs acquired Olt from the Rangers last July in the Matt Garza deal.
Renteria has some history with Baker; they were together in the Padres' system in 2012-13, but he also knew Kottaras, who played for the Padres in 2006. Kottaras had signed a one-year, $1 million contract with the Cubs; Baker and Whiteside were non-roster invitees.
"I think Bake worked really well this spring and he kind of just earned his spot in general," Renteria said of the decision, saying they liked the "well roundedness" of his game.
Jeff Samardzija was OK with Baker, who has entertained the Cubs players this spring with his guitar and interesting taste in music. His picks have included a New Zealand band, "Fat Freddy's Drop," and also a Santa Barbara, Calif., group called "Rebelution."
"He's a vocal guy and he's a smart dude," Samardzija said of Baker. "You definitely enjoy a cerebral catcher for sure. It's nice even when he's not catching that he's paying attention to the game and is locked in. Even after the game, you can bounce ideas off him.
"He's an honest guy, too," Samardzija said. "That's the best thing you want out of a catcher is, hey, if I was garbage that day, tell me I was garbage. If I was good, tell me I was good. You want that honest feedback from a catcher."
What about Baker's musical talents?
"He's good enough," Samardzija said. "You've got to look out for the mediocre guys who think they're good. Those are the annoying ones. They only know about a minute of every song they play. He can actually play and sing a little bit. And he plays good music, too."
The Cubs were looking for someone with experience and who was willing to accept his role, and Baker fits both those categories.
"Our backup guy needs to be a veteran, mental guy who's been around and knows what he's talking about," Samardzija said. "On top of that, Bake can hit, too."
Murphy knew a decision was coming. Earlier Wednesday, he told MLB.com he was trying to stay calm.
"The last week is always stressful, no matter what your situation is, until you see the final 25 people out there, until they say, 'Hey, you're going with us,'" Murphy said. "At the same time, we're here playing baseball, and just go play. If you start thinking about that stuff, you'll start pulling your hair."
Carrie Muskat is a reporter for MLB.com. She writes a blog, Muskat Ramblings, and you can follow her on Twitter @CarrieMuskat. This story was not subject to the approval of Major League Baseball or its clubs.