Rizzo teams with Cards' Motte to fight cancer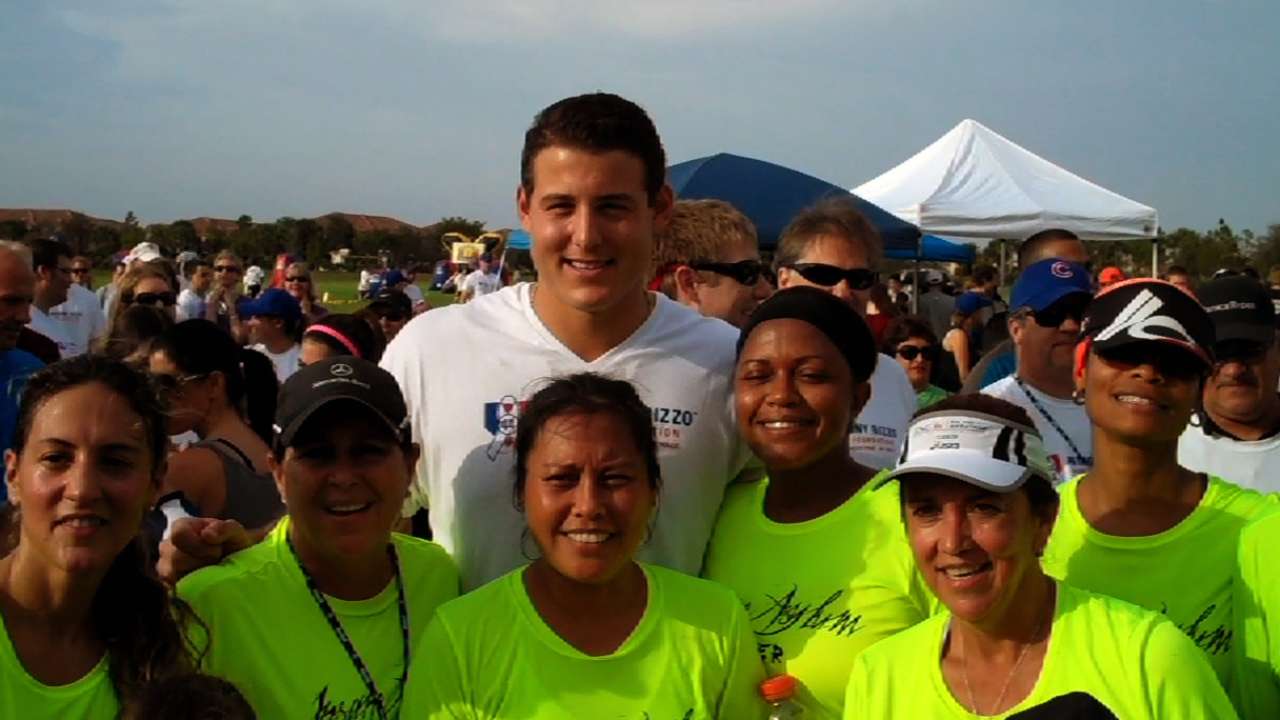 MESA, Ariz. -- Anthony Rizzo is wearing a new T-shirt that he hopes will help cancer patients across the country.
The Cubs first baseman has joined forces with the Cardinals' Jason Motte and his "Strike Out Cancer" movement. One player from each Major League team will promote the T-shirt -- which will be in that team's colors -- and $5 will go to Motte's foundation and $5 to the other player's charity of choice. That will assuredly benefit Rizzo's foundation, which has already hosted two walk-a-thons in Florida and a celebrity "Cook-Off for Cancer" in Chicago.
"It's nice that he reached out," Rizzo said of Motte. "I saw the Cardinals wearing them last year, and I liked it because of the cancer angle."
Rizzo does have T-shirts for his foundation and has worn shirts given to him from cancer patients he has visited in hospitals. Rizzo is a cancer survivor himself, having been diagnosed with limited stage classic Hodgkin's lymphoma in 2008.
"It's really cool that [Motte] is doing this, and hopefully one day, my foundation can be as big as that," Rizzo said. "It helps mine, it just helps the cause. That's really the nicest part that you can help out -- it doesn't matter if it's my foundation or someone else's. It's just to help the cause."
The website 108stitches.com went live on March 17, with 108 Stitches showcasing the "Strike Out Cancer" tees in each team's colors. Each is promoted by a different player who agreed to join Motte in a partnership that will benefit multiple charities. Each participating player has chosen a charity that will benefit from the T-shirts sales, and for each shirt sold, $5 will go to the Jason Motte Foundation and $5 to a charity of that player's choice. A full list of recipient charities will be listed on the 108 Stitches website soon, along with a photo of each player rep in his team-colored shirt.
"At the end of the day, it's about reaching people," Motte said. "Baseball is great and everything, but there are other really important things going on out there that affect a lot of people. Wearing these T-shirts shows people that they're not alone. They're not sitting there doing chemo by themselves where no one cares. People do care, whether it's friends, family or baseball players. There are people who this has touched and this has affected. This is something we're trying to do to get the word out there and try to raise money to help."
Some Cubs fans apparently couldn't wait for the blue shirt and purchased the red one on the site.
"I have had Cubs fans tweeting me, 'Hey, man, I'm a Cubs fan, but my mother just got diagnosed with cancer and I'm showing my support for her,'" Motte told MLB.com.
Carrie Muskat is a reporter for MLB.com. She writes a blog, Muskat Ramblings, and you can follow her on Twitter @CarrieMuskat. This story was not subject to the approval of Major League Baseball or its clubs.