Olt, Kalish make Cubs' Opening Day roster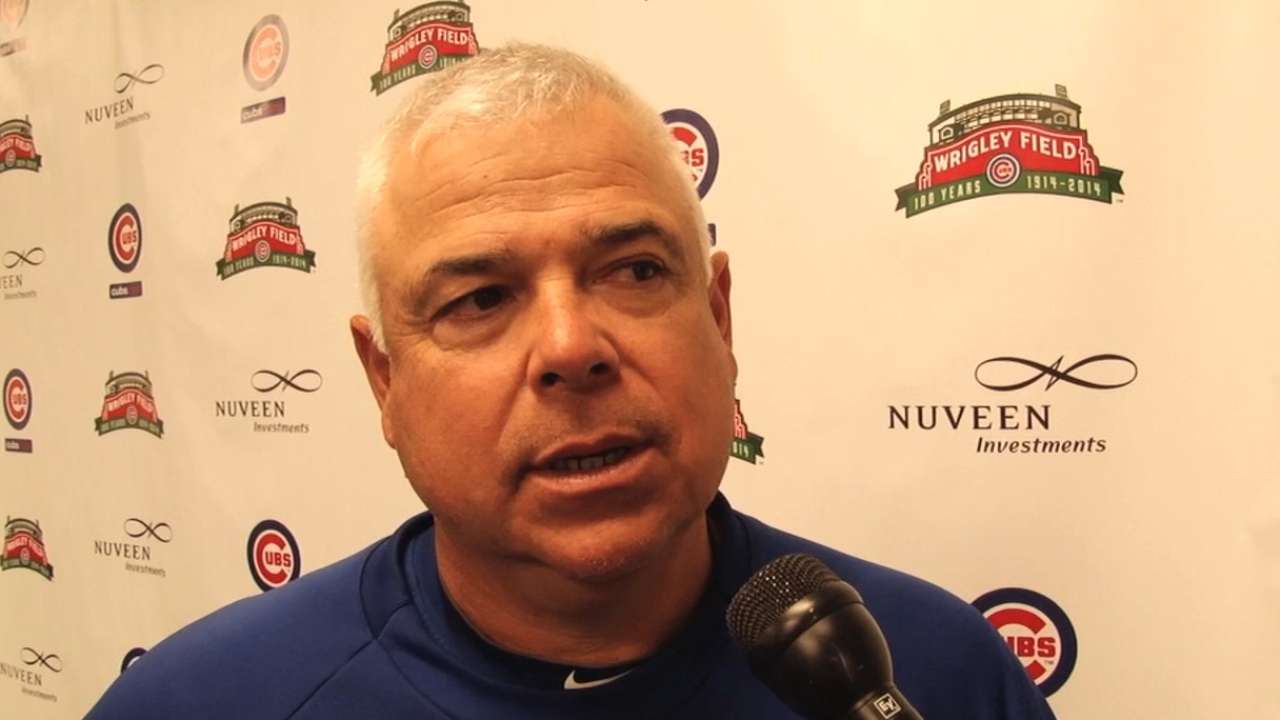 MESA, Ariz. -- Mike Olt, who battled vision problems last year, and Ryan Kalish, sidelined all of 2013 because of an injury, both made the Cubs' Opening Day roster, and Ryan Roberts and Chris Coghlan were told Thursday that they did not.
General manager Jed Hoyer announced the final position player decisions and said the pitching staff is still to be determined. The Cubs have 16 pitchers in camp, including three who will likely open on the disabled list in Kyuji Fujikawa, James McDonald and Jake Arrieta. The plan is to carry 12 pitchers, including five starters, Hoyer said.
Carlos Villanueva and Chris Rusin have battled for the fifth starter spot, and one option was to use Villanueva as a swingman, especially with off-days in April. Hoyer said they want the rotation set.
"We're going to go with five starters," Hoyer said. "We're not going to go with four, and use the off days."
The Cubs have exhibition games Friday and Saturday at Chase Field against the D-backs.
Roberts has requested and been granted his release, and is now a free agent. Coghlan was headed to Triple-A Iowa.
Both Olt and Kalish showed their resiliency in coming back from injuries.
"We felt Olt really showed us a lot this spring and the way [Olt] swung the bat was really impressive and we liked the work he's done at third," Hoyer said. "We loved the way Kalish played all spring. He's got great energy, can play all three outfield positions and gives us another left-handed bat. We're really happy with the guys we kept and we're really happy with their springs, but they were hard [decisions], because Chris and Ryan Roberts played well."
Manager Rick Renteria said Olt and Luis Valbuena will share third, and Hoyer said the two players give the Cubs options in the lineup.
"[Olt] had a great spring with the bat, his at-bats were very good, patient, aggressive, his swings were aggressive and he did a lot of damage and drove in a lot of runs," Hoyer said. "It was pretty clear if he was able to play third and get enough innings in and get enough reps, it was clear we wanted his bat in Wrigley."
The Cubs acquired Olt last July in the Matt Garza trade. They tried to include him in a deal in July 2012 when Chicago sent Ryan Dempster to Texas, but the Rangers said no.
A first-round pick by the Rangers in the 2010 First-Year Player Draft, Olt began 2013 at Triple-A Round Rock, and was batting .139 on April 25 when he asked for some help. In November 2012, he was hit in the head while playing in the Dominican Republic winter league, and was having problems seeing. He's overcome the vision problems, and battled a tender right shoulder this spring in camp.
"We're excited for Mike," Hoyer said. "I think he's proved himself here in Spring Training, but he probably feels like he's got a lot more to prove. This is the exhibition season and now we have to go play real games. I'm excited for him that he was able to come in here and do what he did in Spring Training."
When did Olt know he was over his vision problems?
"First pitch of live [batting practice]," Olt said. "Picking up the spin is just what I needed. Last year, I couldn't pick up the spin. This year, I was able to see the ball and get a good curveball to hit instead of swinging at something in the dirt. I was happy with the swings I've made this spring training. Even my strikeouts have been some of my best at-bats."
Kalish gives the Cubs another left-handed hitting outfielder, along with Nate Schierholtz and Ryan Sweeney.
"I like the right-handed bats we have, but we'll be able to mix and match a little bit depending on the starting pitcher and depending on the game," Hoyer said.
Hoyer and Cubs president of baseball operations Theo Epstein knew Kalish from their days together in Boston. A ninth-round Draft pick in 2006, Kalish was injured after colliding with an outfield wall in April 2011. He eventually needed cervical fusion surgery, which involves the removal of a disc in his neck, and the insertion of a metal plate. It's the same surgery Broncos quarterback Peyton Manning had, and Kalish had the same doctor, spinal specialist Robert Watkins, and even stayed in the same hospital room.
"He's a solid defender, runs well, puts together a great at-bat, whether it's against righties or lefties," Renteria said. "He had been down for awhile with different issues over the past couple years and he's extremely happy to be a part of the organization and part of the club. He did a nice job this spring."
It was a nice birthday present for Kalish, who turns 26 on Friday.
"I got choked up a little bit," Kalish said. "It's been such a wild ride to even think I'd be starting Opening Day for the Cubs this year, after being in a cervical fusion recovery room overnight, is just pretty wild. This is a really awesome day for myself and everyone who has seen what I've gone through. My family is just ecstatic."
Both Olt and Kalish are excited about what they've seen in Cubs camp so far.
"Theo and Jed have a plan going for the Cubs," Olt said. "Just listening to it, you get goosebumps with what they're trying to do. To be a part of that is definitely something special."
The Cubs also are expected to add non-roster invitee Emilio Bonifacio to the Opening Day roster. He would join Olt, Kalish and Welington Castillo, John Baker, Anthony Rizzo, Darwin Barney, Starlin Castro, Valbuena, Schierholtz, Sweeney, Junior Lake, and Justin Ruggiano.
Carrie Muskat is a reporter for MLB.com. She writes a blog, Muskat Ramblings, and you can follow her on Twitter @CarrieMuskat. This story was not subject to the approval of Major League Baseball or its clubs.