Baker comes full circle as backup catcher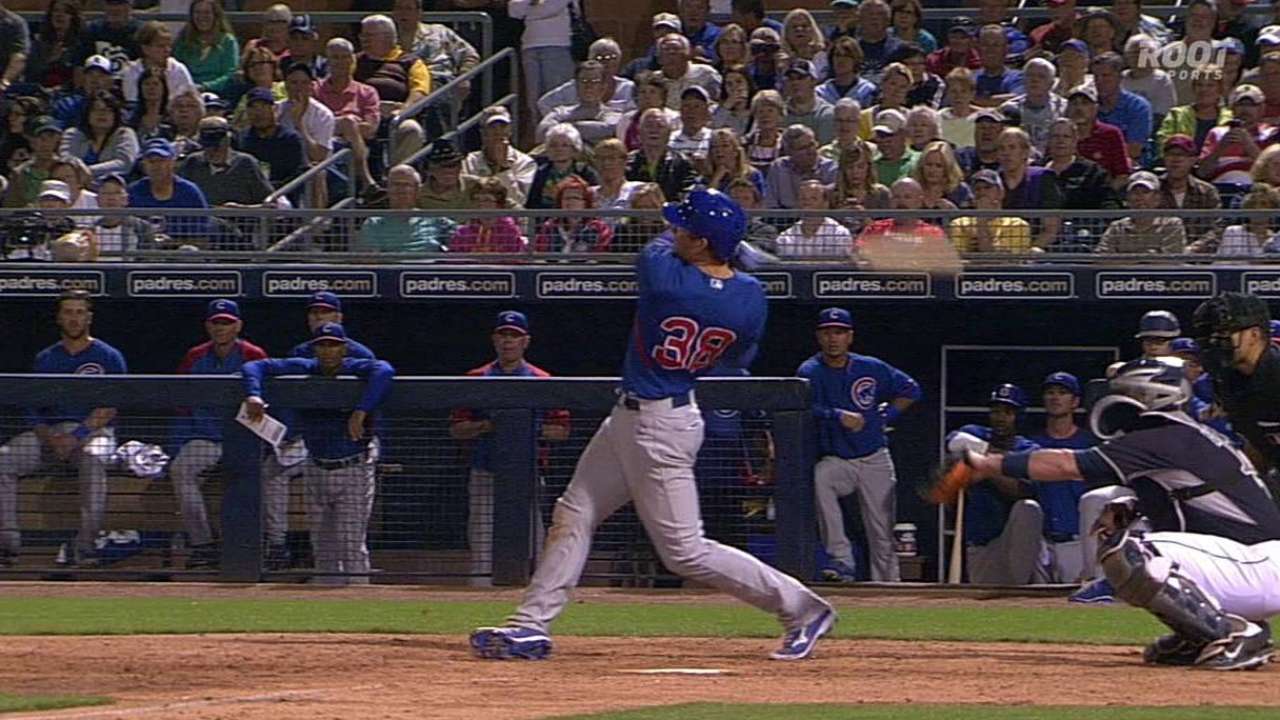 MESA, Ariz. -- John Baker was able to call his father with some good news.
"To be able to talk to my dad and say, 'Hey, do you want to see Opening Day of the 100-year anniversary of Wrigley Field?' If that doesn't give you goosebumps, you have no pulse," Baker said.
Baker, 33, found out on Wednesday that he had made the Cubs' Opening Day roster as the backup catcher. It's a job that doesn't get headlines, but it's an important role. Not only does Baker have to be willing to catch extra bullpens, but also is sometimes pressed into the role of camp counselor.
He won the job over George Kottaras, who was placed on unconditional release waivers on Wednesday, and Eli Whiteside, who will open the season at Triple-A Iowa. Cubs manager Rick Renteria knew Baker from their time together the last two seasons with San Diego.
"I came in under the premise that it was going to be a competition," Baker said. "I had a positive mindset the entire time, that it was my job to take if I played well. I think that's all you can ask for is that kind of an opportunity."
This spring, Baker batted .280 in 12 Cactus League games, and Renteria complimented the "well roundedness" of his game.
"It's pretty validating," Baker said. "I told them in the meeting it's almost sweeter than the first time I got called up."
Baker made the Padres' Opening Day roster last year, but was sent down to make room for Yasmani Grandal, who began the season serving a 50-game suspension for violating Major League Baseball's Joint Drug Prevention and Treatment Program.
Baker was injured in his first game in the Minor Leagues, and designated for assignment on June 10. He was claimed by the Dodgers five days later. It was a crazy year, in which Baker said he was "dragging my family all over the map."
Jeff Samardzija said he liked that Baker was a "cerebral catcher."
"I think about all the things that they don't have to think about, and that's the goal," Baker said. "When I'm back there putting down signs, I want to create a robot on the mound that just looks in, and says, 'That looks good and I'm going to throw it.'"
Baker did play at Class A Kane County in 2003, when it was one of the Athletics' Minor League teams. He stays in touch with his host family.
"I loved my time there," Baker said. "Every time we had an off day, [his host] gave us his Cubs season tickets and I saw Cubs games. It's kind of full circle validating and a pretty emotional moment."
Carrie Muskat is a reporter for MLB.com. She writes a blog, Muskat Ramblings, and you can follow her on Twitter @CarrieMuskat. This story was not subject to the approval of Major League Baseball or its clubs.