Cubs turn back clock on menu for Wrigley's centennial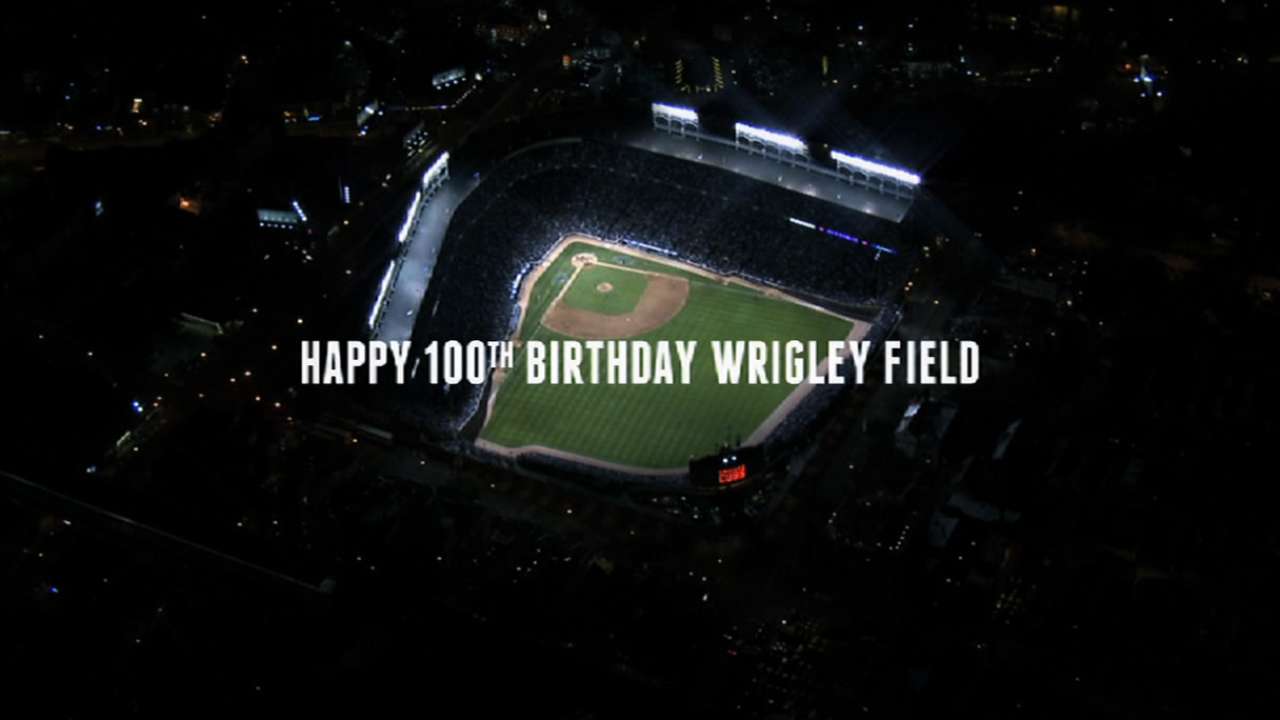 PITTSBURGH -- Besides throwback jerseys and appearances by Cubs alum, fans coming to Wrigley Field this season will find decade-themed menus at the concessions to help celebrate the ballpark's 100th anniversary.
The Cubs play their home opener on Friday against the Phillies, and fans will find interesting eats at the Sheffield Grill, located inside Gate D, as it will be transformed into the "Decade Diner." Kraft Cheese also is 100 years old, and the diner will feature a different cheese recipe for each decade.
There also will be "Decade Dogs" available near Gate F, including:
• 1910s Rueben Dog: Vienna Beef hot dog, sliced corn beef, sauerkraut, Thousand Island dressing and Swiss cheese. Available all season.
• 1920s Chicago Dog: Vienna Beef hot dog, tomato wedges, pickle spears, sport peppers, diced onions, mustard, neon relish and celery salt, served on a poppy seed bun. Available all season.
• 1930s Cheese Steak Dog: Vienna Beef hot dog, shaved ribeye steak, grilled onions, peppers and provolone cheese. Available during the 1930s homestand.
• 1940s Corn Dog Nibblers: Deep-fried mini Vienna Beef corn dogs. Available during the 1940s homestand.
• 1950s TV Dinner Dog: Vienna Beef hot dog, mashed potatoes, gravy and corn. Available during the 1950s homestand.
• 1960s Buffalo Wing Dog: Vienna Beef hot dog, diced chicken, buffalo sauce, bleu cheese crumbles and chopped celery. Availably all season.
• 1970s Pulled Pork Dog: Vienna Beef hot dog, pulled pork, barbecue sauce and coleslaw. Available all season.
• 1980s Nacho Dog: Vienna Beef hot dog, tortilla strips, nacho cheese, salsa and pickled jalapenos. Available during the 1980s homestand.
• 1990s Bagel Dog: Vienna Beef hot dog wrapped in a warm bagel with deli mustard. Available during the 1990s homestand.
• 2000s Dog: The most popular hot dog from the previous decades. Available during the 2000s homestand.
To accompany the hot dogs, fans can pick one of "10 Timeless Toddies" available on the main concourse at Section 109 and on the bleacher patio in left field. The drinks include a 1910 Weeghman Park Old Fashioned; a 1920 Upper Deck Gin Rickey; a 1930 Called Shot, which is a Manhattan made with the fans' choice of whiskey; and a 1940s Day Game, which is a variation of a "hurricane." There also will be a 1950s Mr. Cub Cocktail #14, served in honor of Ernie Banks, and a 1960 Alabama Ironman, in honor of Billy Williams.
In addition, there will be an expanded list of beers available, including Goose Island drafts and bottles, such as 312 Urban Wheat and Green Line, Matilda and Sofie; Budweiser and Bud Light; Mang-O-Rita, Raz-Ber-Rita, Lime-A-Rita and Straw-Ber-Rita; Redbridge gluten-free beer; Johnny Appleseed Cider; and Old Style.
The Cubs have partnered with Majestic Athletic to recreate throwback uniforms from each decade. Fans will be able to purchase the reproductions at the Cubs Team Store and from authorized Cubs retailers, and they will be able to pick jerseys from 1929, '37, '42, '53, '69, '88 and '94.
Carrie Muskat is a reporter for MLB.com. She writes a blog, Muskat Ramblings, and you can follow her on Twitter @CarrieMuskat. This story was not subject to the approval of Major League Baseball or its clubs.